booty workouts
will have your glutes on fiyah right in your living room! No fancy equipment or gym membership needed. You've got the best booty in the West,
Nicole Steen
, guiding you on your bootylicious quest today. So let's get started.
Booty Workout
Your butt deserve
more credit
than it gets because it is one of the most hard working muscle groups in your body. It helps you with everyday activities like walking, shopping or playing sports and it supports you when you're at work, sitting for hours. Of course, your booty needs all the love and care it deserve and that's where
booty workouts
come in. Whether you just finished a round at the gym or need a stretch at work or you're working out at home, try these moves to engage your gluteus maximus! We're so lucky to have
Nicole Steen
on our platform for
Tone N Twerk
, she is booty GOALS and knows all about a good booty burn. Check out these booty workouts from our
Standing Twerk Workout
and let me know which move is your favorite. Let's get bootylicious, babe!
1. Mid Stance Squat
This is a move you can practically do anywhere! It's super easy yet super effective. Things to remember, keep your weight on your heels and your chest up. This engages your thighs and glutes and the more reps you do, the stronger your get. So keep on squatting, sistah!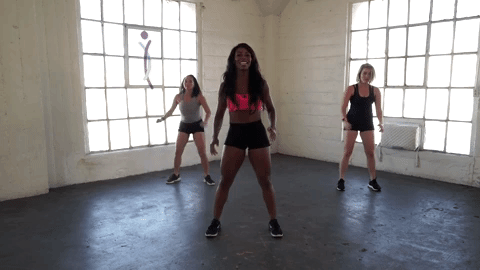 2. Squat with Front Kick
This move is a little bit of an extension of the first move. Nicole mixed in a little bit of Kickboxing to our Tone N Twerk workout to bring you this Squat with Front Kick. This move is a lot of fun, especially if you give a little warrior yell every time you kick ? Kick that booty, queen.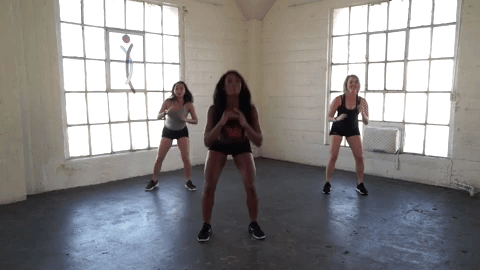 3. Squat with Back Lift
Kick off those calories with this fun booty move. Engage that lower glute muscle that you probably didn't even know was there. You know the area between your booty and thighs? Yea, that's going to burn and it's going to get stronger! Who knew toning could be this fun?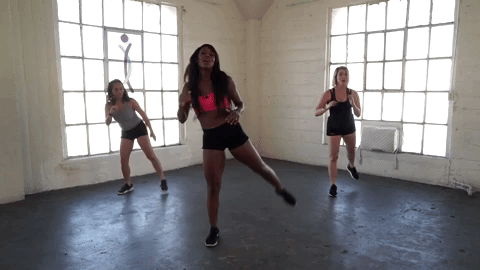 4. Lateral Lunges
Here for a tighter booty? This is the move for you! The leg push up you do during these lunges will engage your muscles and help sculpt your glutes. And bonus: you get a core workout with this move as well! When you bring your foot in to your knee, you tighten you core. What a winner! And don't forget to do the other side ?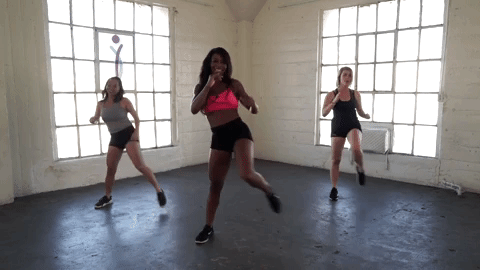 No Equipment Booty Workout
Get a 5 minute clip of one of our
Tone N Twerk
workouts with Nicole Steen. The full workout is available to all our dance studio member!
Booty Workouts Anytime, Anywhere!
We're your go-to on-demand 
dance workout
 studio. Our classes are always available 24/7, 365 days! Get more Tone N Twerk workouts, meal plans and more! PLUS our Tone N Twerk DVD is available for purchase on Amazon ? Buy it HERE.
Subscribe today and

 

immediately get access to:
✔️ ALL our Dance Workouts & Choreography  (150+)
✔️ Weekly Workout Schedule
✔️ Goal Specific Workout Programs
✔️ Low Carb Recipes
✔️ Exclusive Member Challenges
and more… for only $18 a month.
These