glute workout
? ??‍♀️ I know I do and I love using
Resistance Bands
to increase the workout. If you've never used resistance bands before, they're stretchy bands that you wrap around your legs or ankles for strength training. We've got our
Booty Queen
,
Nicole
, to lead the way to a stronger butt with the use of resistance bands and
Tone N Twerk
workouts.
Glute Workout Benefits
Did you know that your glutes is a
very important
muscle in your body? It basically holds your body's foundation so the stronger it is, the better your body will function. Many of us sit on our butts all day at work, to help combat that sitting disease, workout your glutes to help improve your posture. Does your lower back ache? Did you know that your glutes also supports your lower back?
Strengthen your booty
muscles and all those little aches and pains on your back will disappear. Yes, so squat like there's no tomorrow and you'll sit taller and feel so much better every day of the week. And this is where
Tone N Twerk
workout comes in. This series has become one of my faves and I've really seen an improvement on my
twerking
and how my glutes feel.
Resistance bands
are also great because they're so light and portable and easy to use. So I want to share 4 of the moves from our class that uses resistance bands. They're so easy to do, you can literally
work on your buns anywhere
! Let me know your fave moves from the list below and let your
toning and twerking
adventure begin.
1. Band Squats
Put your bands right above your knees and
SQUAT
. The trick is to squeeze your core and your glutes when you stand up. What are the bands for? When you squat down, you should be pushing your knees out and the bands will work it's magic on your legs and back!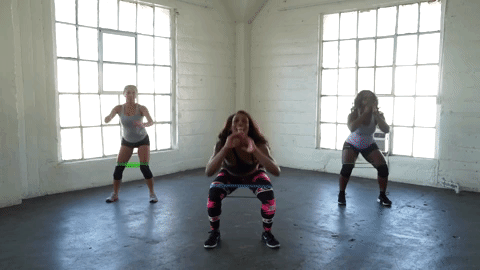 2. Squat Pulses
This is where the
real burn
kicks in. Engage your booty while you sit and pulse your knees out. How many reps can you do? The more reps the stronger your buns will be. Pull your belly in if your back starts to strain and let your tush do all the work, babe!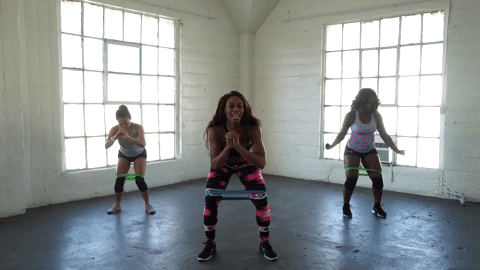 3. High Squat Steps
With your bands down to your ankles, stay in a high squat and step to the right twice and then the left twice. This doesn't just
strengthens
your glutes, this also helps your legs and calf muscles improve. You'll be sore the next day but it'll be oh so worth it!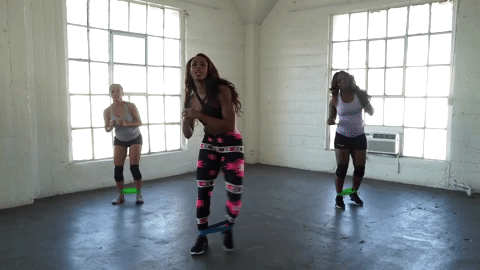 4. Step Touch
This is the single step version of the High Squat Step and it's a lot of fun when you do the
Carlton dance
with it! You ALMOST forget about the pain (lol). But this move also engages your core so the more you do it, the harder your abs will feel. Who knew sculpting muscles could be so fun.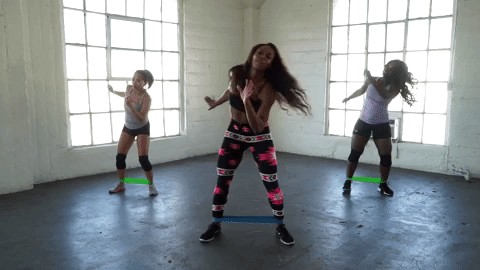 5 Minute Resistance Band Glutes Workout
Get the five minute snippet of this glute workout from
Nicole Steen
and
Tone N Twerk
. The full 30 minute workouts is available to all dance studio members!
Tone N Twerk Workouts Anytime, Anywhere
We're your go-to on-demand
dance workout
studio. Our classes are always available
24/7, 365 days
! 
Get more Tone N Twerk
 workouts, meal plans and more!
Subscribe today and

 

immediately get access to:
✔️ ALL our Dance Workouts & Choreography  (150+)
✔️ Weekly Workout Schedule
✔️ Goal Specific Workout Programs
✔️ Low Carb Recipes
✔️ Exclusive Member Challenges
and more… for only $18 a month.
Who doesn't love a good