Blissful Barre
and
Diane
. Grab a band and let's get blissful.
Why Resistance Bands?
Resistance bands
are such a great investment because they don't take up a lot of room, they're easy to take with you and they really work. The bands forces your body and muscles to maintain stability through your movements. That means, your muscles are super engaged even in a short period of time. Since your muscles adapt to movement really fast, fitness bands can
challenge your muscles
by adding resistance to the same movement. Plus you don't have to be an expert to use these little magical equipment ✨In this five minute workout,
Diane
will show you easy peasy ways to tone your booty using bands and barre-inspired moves. I think my favorite move is the
Leg Lift
because it looks innocent but it actually burns so good! Show off your bands on
Instagram
and use
#hipshaker
so we can give you a virtual high five??
1. Side Step Touch
For this move, the bands really restrict your movement and you feel your thighs and booty working that squat. Even just doing the Side Step, you really
engage your inner thigh muscles
and I can tell you, I barely work on those.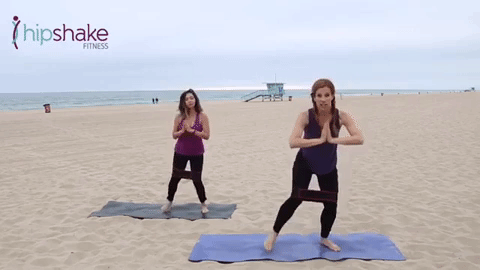 2. Heel Up Squat Pulses
Whoa mama, balancing on the beach is hard! I love these Squat Pulses because there are two other
challenging factors
to it; 1. lifting my heel while squatting 2. activating the band while squatting. It's a simple moves with lots of different elements and I think that makes it very effective.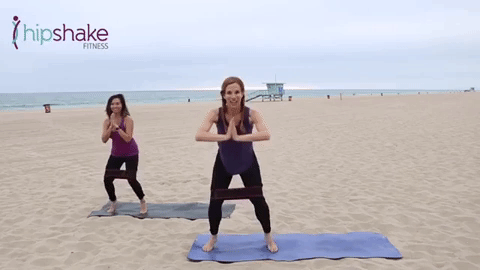 3. Leg Lifts
My fave move! Here's another simple but not so simple move that I really love. This move works out your booty, legs and even your core. Every time you lift one leg up, you're balancing your standing leg and that all comes from your core, hun??
Pheral Fit Hip Bands
These bands are not your typical fitness bands, they're heavy duty, awesome and will definitely make your glutes and thighs work! Want your own? Claim your 20% off coupon 
https://bit.ly/2IR6rQn
 PLUS it comes with 3 bonus fitness bands too. YES!
5 Minute Barre Inspired Booty Workout
Put your bands and booty to work with
Blissful Barre
and
Diane
. Grab a towel and a water bottle and slay that booty game, babe. Get full access to the 15 minute workout and more
Blissful Barre
 when you join our virtual dance studio today.
Barre Anytime, Anywhere!
We're your go-to on-demand 
dance workout
 studio. Our classes are always available 24/7, 365 days! Get more Blissful Barre workouts with Diane Numark today.
Subscribe today and

 

immediately get access to:
✔️ ALL our Dance Workouts & Choreography  (200+)
✔️ Weekly Workout Schedule
✔️ Goal Specific Workout Programs
✔️ New Videos Every Week
✔️ Paleo Recipes
✔️ Exclusive Member Challenges
and more… for only $18 a month.
Barre, booty, bands? We've got all three and they play so well together! We're heading to the beach to work on our tan and our butts with