Barre workouts
are great for improving flexibility, body toning, core strengthening and so much more. But it can get
intimidating
to go in a class where everyone already knows what they're doing. So we created
Blissful Barre
with
Diane
in which all moves have been adapted to work for your home.
Why I Love Barre Workouts
Barre workouts are a combination of ballet, yoga and pilates. I started ballet when I was 7 and fell in love, but I wasn't a big fan of the super strict technique. I still always thought that the moves in ballet are so good for your strength and core that I was so happy to find out that barre workouts make use of those techniques. Barre workouts combines the best of ballet, yoga and pilates in one class which means you get a total body workout! And we all love that.
Equipment
All you need is a chair with a backrest for this workout. You can start off without weights and the playground ball for now, but if you want a more intense workout then try it with the
weights
or just the
playground ball
or both! You can also use a pillow if you don't have a ball like me! I hope you enjoy it and let's get ready to barre.
1. Heel Press
Plié for days! This move is one of the basic barre moves that really burns your thighs the longer you do it. If you're feeling really sassy, you can even try holding both arms up ?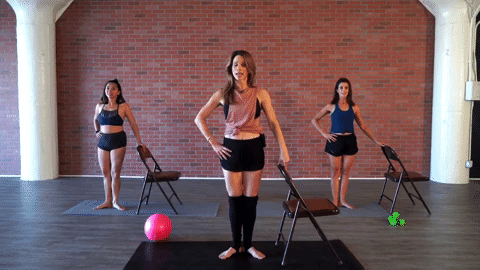 2. Tuck
On your tippy toes then tuck. What is tucking? It is tiny pulses created by your hips and your core. Pull your hips under you and feel the tightening of your core, your seat and your legs. This also improves posture and lifts your glutes!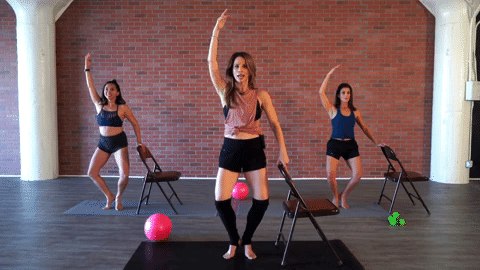 3. Ball Squeeze
This moves combines a plié and the tuck. If you're using a ball, squeeze the ball while you plié down. If you don't have a ball, squeeze your legs together while you plié. You will feel the burn in your thighs and it will feel soooo good!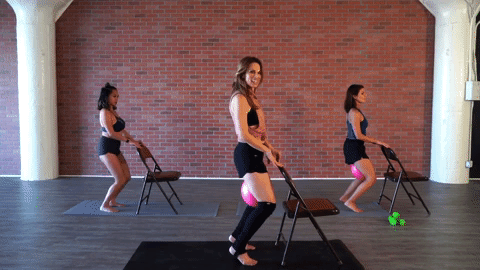 4. Arm Squeeze
We don't forget the upper body here at Blissful Barre. We've moved the ball up and as you plié, squeeze the ball with your palms. If you don't have a ball, push your palms together, it works just as well. Get those biceps in shape, babe!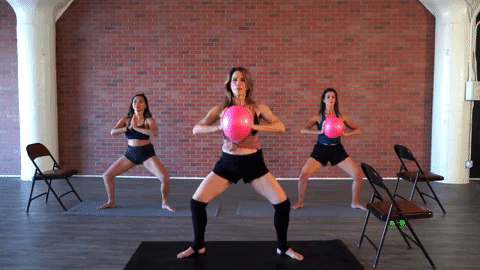 5 Minute Basic Barre Workout At Home
This is just a 5 minute clip of a full 30 minute workouts. Get full access to this
Blissful Barre
workout when you sign up now.
Cardio Barre Workouts Anytime, Anywhere!
We're your go-to on-demand 
dance classes
. Our dance workouts are always available
24/7, 365 days
! PLUS workout programs you'll love so stay fit on your own schedule with us.
Subscribe today and

 

immediately get access to:
✔️ ALL our Dance Workouts & Choreography  (100+)
✔️ Weekly Workout Schedule
✔️ NEW Workouts Weekly
✔️ Goal Specific Workout Programs
✔️ Low Carb Recipes