ARMS
?? We've got the best arm workouts for women that's easy and totally efficient. You don't have to be a weightlifter to get
toned and tight
arms. Add these moves to your cardio routine and watch your arms get stronger and sexier! ??
Arm Workouts & Weights
Weights
, of course, are your arms best friend! Weights go
hand in hand
with
arm toning workouts
because it increases resistance and helps build your gorgeous muscles. But what if you don't have weights? Can you do these workouts? Absolutely! You can definitely do these arm toning moves without weights OR you can use these household items as alternatives:
1 pound weight alternatives:
Cans of soup or beans
Utensils — about 10 and wrap with rubberband
16 oz water bottles
2 pound weight alternatives:
Bag of oranges
32 oz chicken broth or soy milk (before you refrigerate)
5 pound weight alternatives:
Standard bag of flour
Large bag of rice
Laundry detergent bottles
Arm Workouts For Women
I have a hard time working out my arms and usually I don't know where to start. I'm so excited that we have an arm toning workout from
Ashley
that's part of her
Strong and Sexy
workouts. These moves will make your arms burn, girl! ??The day after I did this workout, I was
SORE
, but my arms felt like they were getting stronger and I could feel the muscles forming ?? Get ready to curl those arms and show em off!
Show off your household hand weights on Instagram with #hipshaker so we can give you a virtual high five, babe!
1. Bicep Curls
An important tip for doing bicep curls properly is to pretend like there's a table in front of you. Keep your arm at elbow level when you
finish your curl
. Your biceps will thank you.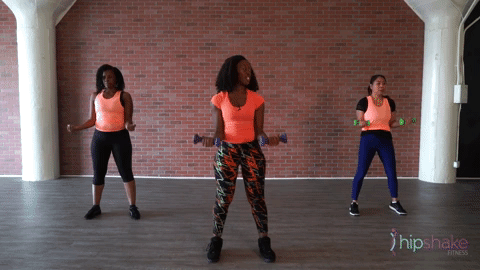 2. Side Curls
Oh side curls, I have a love/hate relationship with you. They seem so easy on paper, but again you have to keep those arms up and elbows tight. Let's get that
Wonder Woman
arms today, shall we?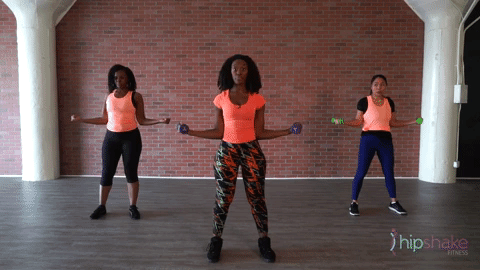 3. Bicep Pulses
The more pulses you do, the
stronger
you get! Do this in front and on the side because this will strengthen all your arm muscles. You feel it on top of your arms and by your wrists. It's pretty simple and awesome.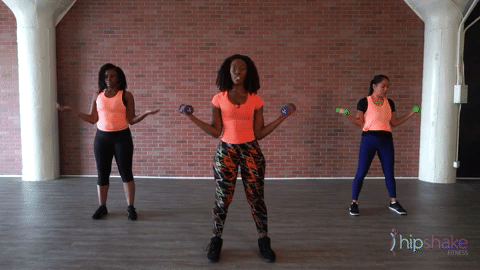 4. Tricep Extensions
This might be my fave arm toning move that we do in this workout. It burns,
A LOT
, but it gives my arms the most satisfaction! Keep your arms at a 90 degree angle to really work it.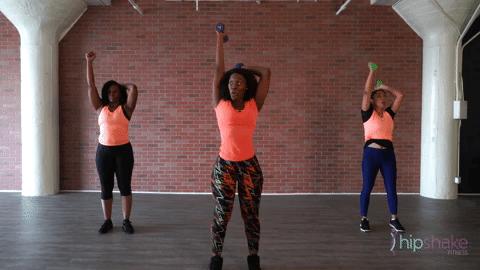 5. Double Tricep Extensions
Arm flab be GONE
! Tricep extensions will get rid of those pesky arm flabs we all have. Keep those elbows forward and extend your arms and feel that flab disappear ?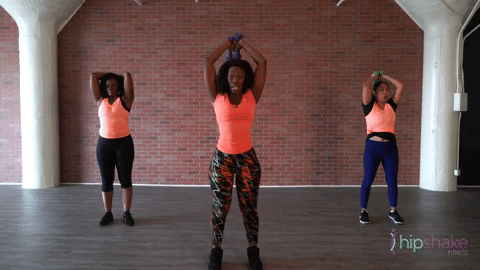 5 Minute Arm Workout For Women
It only takes
5 minutes
to start strengthening your arms. Ashley will guide you through this effective arm workout for women that's the perfect addition to your cardio workout.
Arm Toning & Dance Workouts Anytime, Anywhere!
We're your go-to on-demand 
dance workout
 studio. Our classes are always available 24/7, 365 days! Get more workouts like Strong and Sexy, meal plans and more!
Subscribe today and

 

immediately get access to:
✔️ ALL our Dance Workouts & Choreography  (200+)
✔️ Weekly Workout Schedule
✔️ Goal Specific Workout Programs
✔️ Paleo Recipes
✔️ Exclusive Member Challenges
and more… for only $18 a month.
Girl, where'd you get those