Here's a burlesque dance class for all you QUEENS! You don't need a man to buy you a ring, you can buy that yourself. You want it, you got it and get sexy while you're at it!
---
Burlesque Dance
I'm so excited to show off our newest burlesque dance to Ariana Grande's 7 Rings! It's all about girl friends, shopping and spoiling your tribe. THIS is everything we stand for!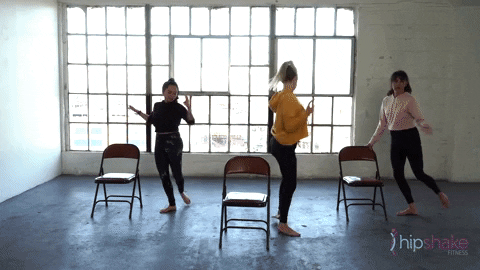 Erica's
got another smokin' hot choreography for you babes. All you need is a chair and your sass for this number and you'll be set. The first time I heard 7 Rings, of course, the classic My Favorite Things hook gave me flashbacks to a
total boss babe
,
Julie Andrews
from
The Sound Of Music
! 
Ariana Grande has a gorgeous voice. I love that she talks about spoiling her girlfriends and girl power! This song is perfect for dancing to burlesque. Erica's dance tutorial will make you
feel
sexy, fierce and empowered
.
Show off your fierce photos and dance moves on instagram. Just tag us @hipshakefitness and use #hipshaker so we can give you some love back.
7 Rings Burlesque Moves
Checkout some of our favorite moves from this burlesque dance! We'll break it down for you before you go through the full choreography.
Fairy Flick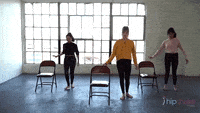 If you've done some of our Burlesque Burn classes, you'll be familiar with the Fairy Flick. Basically, you start by flicking on foot to the floor and then slide your arm down your legs and try to reach your foot. This is a flirty move that you can add to any routine.
Leg Up, Fall Down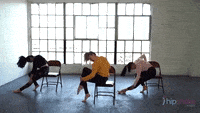 This chair trick is totally badass. Kick your feet up and use your arm to hold it up. Release your foot back down and at the same time, lean back away from your throne and own it!
Fan Kick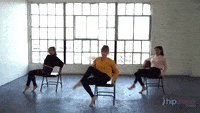 I love me some fan kicks and this time we're doing it on our chairs. The trick is to hold on tight to your throne and really let your legs kick up and over yourself. Use that momentum to really let those babies fly.
Hip Circles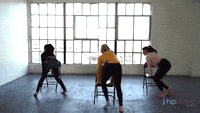 Of course, we gotta show off the BOOTY. I love this part because you stand facing your chair with your booties out like you just don't care! Then draw circles with your hip and hypnotize the world babe.
Full Burlesque Choreography
Here it is babes. Spoil your sexy self with these sultry burlesque moves.
More Burlesque Dancing Workouts Anytime, Anywhere
Burlesque Burn combines the strength of pilates with the sexy stylings of burlesque dance. Sweat, sparkle and own your throne with chair tricks at home. YOU are the dancing queen!!
This is just one of the 200+ dance workouts you can access on our dance studio now!
Download Our 7 Day Dance And Detox And try Burlesque Dance
For our
7 Day Dance And Detox Challenge
, y
ou get to try 4 premium dance workouts from our studio FREE! The complete challenge includes:
7 days of

 

dance workouts
burlesque dance class with Erica
build muscle

 

through resistance training
11 healthy recipes

 

that help give your metabolism a boost
Meal-by-meal plan
A supportive community of women and more…
…all yours for
FREE
!