Old School Hip Hop Dance
I can't get enough of
Old School Hip Hop
. It is my favorite type of dance and as a child of the 80's, I'm so excited to go through my fave classic
80's hip hop moves
. These moves are too much fun and so versatile that you can easily add your own spin to it. And that's what hip hop is all about, adding
your own flavor
to a groove and making it your own 🙌🏼There are so many rhythms in hip hop, but if you start with the classics you'll notice that the fit perfectly with any hip hop beat. The moves below are a great base to start off with and let the rhythm take you and who knows, maybe you'll invent the next classic hip hop move 😉
Running Man
One of the most iconic dances of the 80's is
the running man
. It also happens to be our
Old School Hip Hop
instructor,
Ashley's
fave move. Running in place has never been so fun and beneficial PLUS you can even do a lower modification of this move. Whatever your groove is, old school hip hop's got you!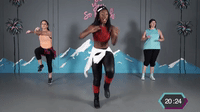 The Prep
This is one of my personal favorites because you can use any move and add
the prep
to it. I love
Ashley's
version because you workout your arms, legs and even your core. This little move does wonders for the body!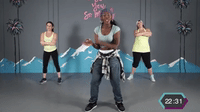 Cabbage Patch
Who can forget this
old school classic
? It's a little dorky, a little silly, but boy is it fun to do! You see a lot of people bust this out at weddings and why not? It gets the crowd going and it's one that everyone is familiar with. Would you bust this out on the dance floor? I know I would!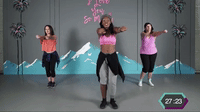 The Butt
Yup, that's what this move is called. Long before twerking, there was The Butt or as I like to call it the "
I told you so
" move of the 80's. Where did this move come from you may ask? It's from a song
Da Butt
by Experience Unlimited. It's super catchy and this move is super fun to do. I bet you can't do The Butt with a frown on 😛
Old School Hip Hop Workouts Anytime, Anywhere!
We're your go-to on-demand 
dance workout
 studio. Our classes are always available 24/7, 365 days! Get more Old School Hip Hop workouts, meal plans and more!

Subscribe today and

 

immediately get access to:
✔️ ALL our Dance Workouts & Choreography  (200+)
✔️ Weekly Workout Schedule
✔️ Goal Specific Workout Programs
✔️ Paleo Recipes
✔️ Exclusive Member Challenges
and more… for only $18 a month.
The 80's was a great decade for hip hop, dance and music. MTV was launched and music videos paved the way to learning about new dance moves, especially hip hop dance. A lot of the dance moves you rock nowadays come from the 80's and we've compiled some of our faves. Do you know these 80's moves?