---
Dance Fitness All The Way
If you're like me, gyms just don't cut it. You want something more
fun for your fitness
and that's where dance comes along. The best part about it is that it's not only fun, but
dance fitness
can also improve your brain function! Say what? Dancing is a great workout for your body and your brain babe.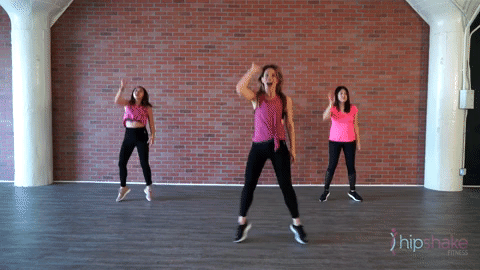 Let's talk about
brain power
, baby. When you're dancing, your brain works a little harder. How does that happen? These dance routines that you memorize can be mentally and physically demanding. Your brain is working harder to remember each move and to move each body part smoothly takes a lot of
muscle memory
. When your muscle memory gets practice that means you also improve your cognition. Through dance fitness you can improve the speed of how you react and understand new material plus you get a great workout in. For example, in our
how to twerk
videos you really have to focus to get your booty to move in a specific motion so your brain works extra hard to do that. Another awesome benefit of dance fitness is sending a bunch of
endorphins
to your brain to make you feel good and happy. Do you ever feel like you're walking on cloud 9 after taking a dance class or after dancing all night with your babes at the club? You've got endorphins to thank for that. So maybe it's time to plan another girls night out or get your groove on to some of my favorite dance fitness classes available online that I've listed below!
Dance workouts are here and available for you 24/7, 365 days a year. We are the first virtual dance studio making dance classes accessible to busy boss babes like you. Check out new workouts on our 
instagram
 and tag 
#hsfteam
 on your posts so
 we can give you some love ?
Let Your Brain Dance
Checkout some of my favorite dance fitness classes that we offer. Take classes with the best fitness instructors Los Angeles has to offer.
Blissful Barre
My love for dance started at a young age in a ballet studio. The techniques got a little too hard for me so I was so excited to find barre classes. Our
Blissful Barre
class with
Diane
is created specifically for your home and combines barre, yoga and pilates. This class will improve your strength, flexibility and state of mind ?
Tone N Twerk
My all time favorite dance fitness class is Tone N Twerk with
Nicole
. There's something about poppin' your booty in the air like you just don't care that makes you feel like you can conquer the world. Not to mention the toning section is a killer. No wonder Nicole is total #bodygoals!
Afrovibe
Nothing beats live music when you're dancing. You feel the beat through your body and let the rhythm move you, that is what
Afrovibe
 is all about. Yes it's got live drums and yes it's got non stop movements and heck yes it's a lot of fun too.
Zen
will make you sweat with this total body dance workout.
Old School Hip Hop
Of course, I saved the best for last…
old school hip hop
. Nothing beats the swag of old school moves and pair it with classic 90's dance hits and you've got a recipe for a successful dance workout.
Ashley
takes you way back to the time of the running man, cabbage patch and even the butterfly. Immerse yourself in old school moves while getting your sweat on.
Online Dance Fitness Workouts Anytime, Anywhere
We're your go-to on-demand dance workouts and you can access over 200 dance classes right now.
Download Our 7 Day Dance And Detox And Get More Dance Fitness Classes
For our
7 Day Dance And Detox Challenge
, y
ou get to try 4 premium dance workouts from our studio FREE! The complete challenge includes:
7 days of

 

dance workouts
build muscle

 

through resistance training
11 healthy recipes

 

that help give your metabolism a boost
Meal-by-meal plan
A supportive community of women and more…
…all yours for
FREE
!
Dance fitness is a fun way to workout your body, but did you know it can workout your brain too? You'd be surprised at what one dance class a week can do for you!