Get Cheesy
Our household is all about the cheese and we love our Mac N Cheese. So I thought, why not make it keto and keep it delish?! Obviously, it was a success because even Teddy likes it. I used Aged White Cheddar for my recipe, but feel free to experiment with what cheese to use and let me know how yours turns out.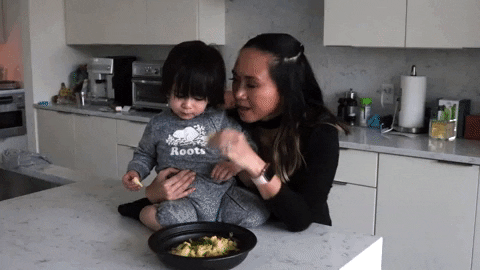 Cauliflower is such a great substitute for macaroni because you can change the texture depending on how long you cook it. I love the versatility because it really doesn't taste like anything and embraces the flavor that you give it. I also love all the
health benefits
that cauliflower has. It is naturally high in fiber and B-vitamins plus it has antioxidants that can protect your from many diseases. I still have a hard time adding veggies to my diet, but this definitely helps because it's all comfort even though it's all veggies. I hope you can try it out for yourself babe. Want more easy recipes? Check out all our
low carb
recipes and show off your version on the 'gram. Follow us on instagram and use
#hsfteam
 for your food posts so we can give you some love too.
Keto Mac N Cheese
Ingredients
2 1/2 cups chopped cauliflower florets, 1/2-inch pieces (26 oz)

1/2 T butter

½ tsp teaspoons olive oil

2 T minced onion

1 T almond flour

1/2 cups whole milk

¼ C grated aged white cheddar

Salt to taste

Optional: green onions or parsley and parmesan cheese as topping
Instructions
Preheat oven to 400F.
Boil water with a little bit of salt in a large pot. Add cauliflower and cook until tender. About 5-7 minutes. Drain & set aside.
Heat oil and butter in a saucepan over medium heat. Add onions and cook for about 2 mins.
Add in flour and stir. Reduce heat to low and keep stirring for about 3 mins to cook the flour.
Gradually add milk and continue whisking. Raise heat to med-high until it boils a little. It will become smooth and thick in about 2 mins.
Season with salt and pepper to taste.
Remove from heat and add cheese (about 1/4 c at a time) mixing well until melted.
Stir in cooked cauliflower then pour into a baking dish. Top with parmesan and bake for 15-20 mins until bubbly and golden brown.
Download Our 7 Day Dance And Detox And Get More Low Carb Recipes
For our
7 Day Dance And Detox Challenge
, y
ou get to try 4 premium dance workouts from our studio FREE! The complete challenge includes:
7 days of

 

dance workouts
build muscle

 

through resistance training
11 low carb recipes

 

that help give your metabolism a boost
Meal-by-meal plan
A supportive community of women and more…
…all yours for
FREE
!
We're adding a keto twist to the classic comfort food Mac N Cheese. Instead of pasta, we're using our trusty friend the cauliflower. I promise you babes this is just as good, even my toddler likes it!