Ashley
 and our
Old School Hip Hop
dance workout series, I'm ready for that reunion.
---
Why Hip Hop Dance?
I think
hip hop dance
is so great because you can make all of these moves your own. You can add your
own flavor
, stank, fierceness to it and the more you own it, the better it looks. I'm all about releasing that inner hip hop head in people and the moves we're breaking down below will definitely help you embrace hip hop dance. It's such a fun dance style and it seriously works your whole body! For me, I get drenched in sweat when I dance hip hop so it only made sense to use it for my workouts too. I really love the
Tootsie Roll
because it's such a classic and it's a helluva thigh burner 🔥Show off your hip hop dance moves on the
'gram
and use
#hipshaker
so I can give you love 🙌🏼
1. Two Step with Arms
The two step is a classic move that works with all the songs! It's a step touch, step touch and voila, you're in. And babe, the arm movement, make it whatever you want. This is a great start because it's easy and you can
bust it out
in any situation.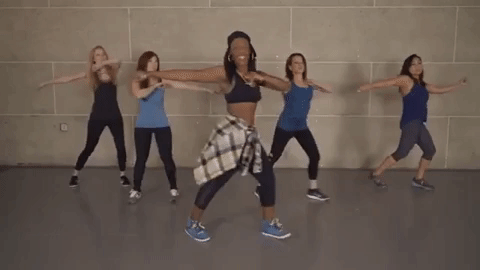 2. Tootsee Roll
Cotton candy sweet to go, let me see that Tootsee Roll! This move is the most fun and everyone knows how to do it. You can really get into the Tootsee Roll by going lower or going in on one side more than the other. How will you personalize this move?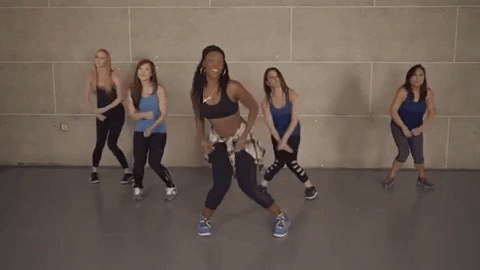 3. The Prep
Want to look hip hop without trying too hard? The prep is for you babe. Put your hands up, palms facing you and move them up and down. Then, show off your
OG self
and cross those arms and rock away. So dope, babe!
4. Running Man
We can't have a hip hop dance tutorial without the running man! This was made popular by the Queen, Janet Jackson in her
Rhythm Nation
music video. This is actually a good core workout too because you have to keep yourself from moving around. So release your inner Ms Jackson babe!
5. Stomp & Shake
This is for my rump shakers, where you babes at? Like the name of this move, you stomp and then you
shake your booty
. It's as easy as that. Stop as hard as you want and shake that booty as long as you can because babe, you a hip hop head now!
Hip Hop Dance Workout For Beginners
Get the moves above and more with
Ashley
and her 5 minute hip hop dance workout for beginners. Go on and show off your hip hop dance moves and add
Old School Hip Hop
to your fitness routine when you sign up today.
Old School Hip Hop Dance Workouts Anytime, Anywhere!
Old School Hip Hop is a cardio workout that incorporates classic old school moves to your fitness routine. Get the complete beginner hip hop workout when you sign up for our dance studio. You will immediately get access to all our Old School Hip Hop workouts, meal plans and more! We're your go-to on-demand 
dance workout
 studio. Our classes are always available 24/7, 365 days! 
Subscribe today and

 

immediately get access to:
✔️ ALL our Dance Workouts & Choreography  (200+)
✔️ Weekly Workout Schedule
✔️ NEW Workout Videos Weekly
✔️ Goal Specific Workout Programs
✔️ Low Carb Recipes
and more… for only $18 a month.
Babes, how many of you are about to go on their high school reunion? 🙋🏻‍♀️ Mine is about to go down in a few months. I used to be so dorky in high school but I've learned to dance so I'm excited to show off my hip hop dance moves to my peers. Hip hop dance is one of my favorite dances of all time! The old school beats, the funky grooves, the sick flow, I'm all for it. Thanks to