how to twerk
, but we'll be diving in on some of my favorite moves from the twerk queen, Nicole Steen. Let's twerk it!
---
Twerk What Yo Mama Gave You
One of my favorite things about taking a dance class is learning a new move or two to take home with me. Twerk dance is nothing different because I always find a new move that I might not be good at yet, but I can practice it at home and get better. Even with my little booty, I make the moves work for me.
If you've been following my
twerk journey
, you know that it was a step by step process that was very sweaty and a lot of fun. I've got so much respect for all dancers that specialize in twerk, it takes so much endurance and strength to be really good at twerking. In my experience, the more you practice, the more your body gets used to the motions. I love that when I do our
twerk dance classes
, my body feels so strong and end up feeling so sexy. The moves below have helped me be the best twerk queen I can be and these are moves that I can show off to my girlfriends on a night out too. It's a win-win! Because of these moves, my core is stronger, my legs are thicker and my booty game is oh so strong! Our
twerk dance class is designed to lift and sculpt your booty. It always starts with a
strength and toning routine
that will tighten those glutes and ends with a fun and sweatastic twerk workout with
Nicole
! Get ready to learn
how to twerk
and shake what yo mama gave yah. Show off your twerk game on
instagram
with
#hsfteam
so we can give you some love ?
Shuffle Twerk
When you're starting out on your twerk journey, it's easy to get
overwhelmed
. We've got you though. We'll start it off slow with the shuffle twerk. Stand on the balls of your feel and twist to the left and then to the right. Once you get used to the sensation of twisting, incorporate your hips and sit on your booty to the direction of where you're twisting. Try it slow and then try it fast. See how you feel and what's the most comfortable for you. This this 5 minute
step by step twerk
workout
here
.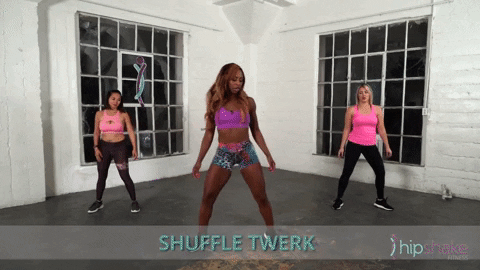 Circle Twerk
Now let's get a little sassy. This twerk move is from our
I Like It choreography
 by
Cardi B
that we shot in Venice Beach. How do you start learning this move? Stand with your feet shoulder width apart and with your right foot, hop forward but keep your left leg static. Keep moving your right foot forward until you've travelled in a half circle. Got it? Now pop that booty everytime you move forward! Yesss queen. It takes a little practice, but you will feel so satisfied when you get it.
Walk & Twerk
If I could walk like this everywhere, I would. Start with an easy step touch where you're standing. Then, let your step touch move to the direction of your fave foot ? Slowly add a booty pop everytime your fave foot moves. Now if you're already an advanced twerker, you can just keep booty popping through the whole move. See the walk and twerk in action in our
Milkshake choreography.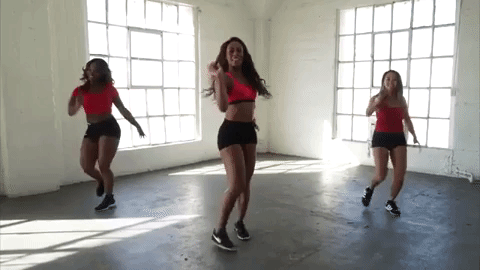 Booty Jiggle
This is seriously one of the most fun twerk moves I've had the pleasure of doing. What makes it so fun you ask? You get to jiggle your booty and really own it! Stand with your legs shoulder width apart then lower your chest down in an angle and let your booty shake. Practice your booty shake by using your legs to let your butt jiggle. The more you practice, the more you can get the jiggle you want. Checkout how much we jiggled our booties in our
Bodak Yellow
choreography.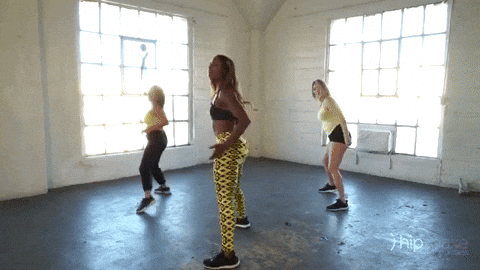 Twerk On All Fours
Where my advanced twerkers at?? This is all for you babe. This requires your arms, core, legs and booty to WERK. Start in all fours, then let your legs stretch out and keep your legs far apart from each other. Now comes the fun part, swoop one knee to try to touch the floor then do the other knee. It's essentially doing the butterfly on all fours. Again, start slow and then go as fast as you're comfortable with. Want to see this move in action? Checkout our
Swalla
twerk choreography.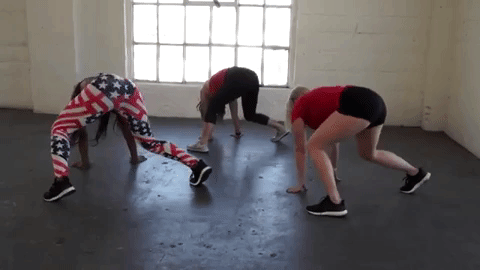 Twerk Dance Moves Anytime, Anywhere
We're your go-to on-demand dance workouts and the only virtual place you'll find Tone N Twerk. Get your cardio dance and toning workouts anytime, anywhere. PLUS, our workouts are always available
24/7, 365 days
! Stay fit on your own schedule with us and try our workouts today.
Download Our 7 Day Dance And Detox And Learn Twerk Dance Moves
For our
7 Day Dance And Detox Challenge
, y
ou get to try 4 premium dance workouts from our studio FREE! The complete challenge includes:
7 days of

 

dance workouts
twerk dance with Nicole
build muscle

 

through resistance training
11 healthy recipes

 

that help give your metabolism a boost
Meal-by-meal plan
A supportive community of women and more…
…all yours for
FREE
!
Have you learned a new twerk dance move today? We've got plenty of videos that can teach you