secret weapons
that will make ab workouts not only intense but also fun. Secret weapon # 1 is your booty babe 
Nicole Steen
. Secret weapon #2 is 
glider discs.
---
Glider Discs For Abs
The first time I stepped foot on glider discs, I was shook!  I couldn't believe how much more work my body was getting just by adding these little discs to my workout. BTW you can grab my fave gliding discs HERE. What I love about glider discs is that it enhances my workout and improves my range of motion.  The toning you get with gliders is just amazing. Plus, you can't really moves without gliders. I also like that the moves are pretty low impact.
Gliders
opens up a whole new library of core exercises. If you've overused your regular push ups and sit ups, add these little discs of wonder and you'll
up your ab workout game
. The workout below was so much fun and I tried my best to keep up with Nicole. If you don't have glider discs and want to try it out first before you buy, use a towel or furniture sliders so you can sample a different type of workout and motion. We're excited for you to try our 5 minute glider workout below! We've also broken down some of the moves for you. Show off your glider game on
Instagram
and use
#hipshaker
for we can give you some love ?
BTW – don't forget to also checkout our
Easy Booty Toning Workout Using Fitness Gliders
1. Mountain Climbers
Without gliders, my knees hurt when I do Mountain Climbers. I was so happy when I could just slide my leg forward and back with no impact to my feet. My core was engaged like crazy and I'm back to loving Mountain Climbers again.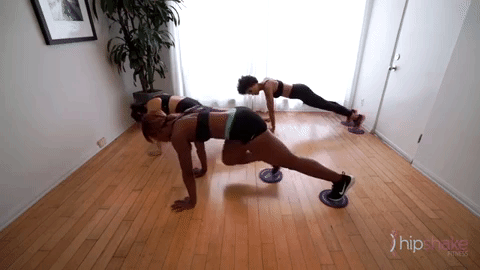 2. Sit Up Twist
This ain't your average Sit Up babe. Being able to slide your feet in towards you while you do a Sit Up is a game changer. This move engages your lower abs alongside your upper abs so it's a full ab party here!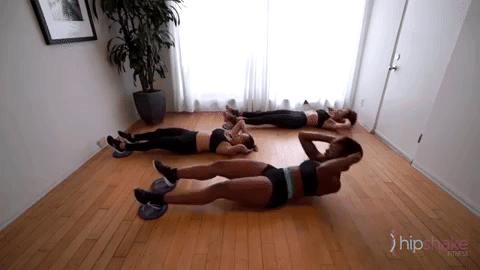 3. Side Plank Kick Through
This is the most challenging move I've done with Nicole to date. If you thought planks couldn't get more intense, oh are you in for a treat! The Side Plank Kick Through is a FULL body move that will leave you speechless, but the gliders make it fun and for me it made me want to really get this move down because I know it'll tone me in the long run.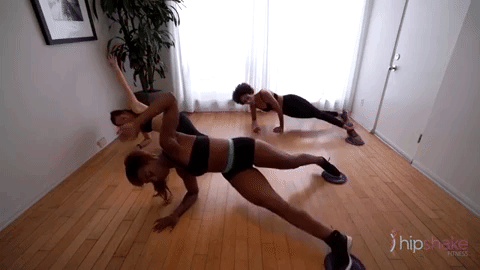 Buy our fave Glider Discs HERE
5 Minute Ab Workout Using Gliders
Check out our 5 minute Core Toning Workout using gliders below. You can get the full 15 minute workout when you sign up to be a member of our online dance studio!
Download Our 7 Day Kickstart Challenge To Get Started On Your Dance Journey NOW
For our
7 Day Kickstart Challenge
, y
ou get to try dance workouts from our studio FREE for 7 days! The complete challenge includes:
7 Days of Dance & Toning Workouts from our studio including Flirty Hip Hop

Recipes that help give your metabolism a boost

Meal-by-meal guide
…all yours for
FREE
!
Flirty Hip Hop Dance Cardio Workouts Anytime, Anywhere
Flirty Hip Hop is a cardio workout that incorporates classic old school moves to your fitness routine. When you sign up today, you will immediately get access to ALL our Flirty Hip Hop workouts, meal plans and more! We're your go-to on-demand 
dance workout
 studio. Our classes are always available 24/7, 365 days!
It's an ab day, baby! Everyone wants to work on abs and it's always hard to work on those ab muscles. Sometimes you feel like whatever you do they're just not budging you know what I mean?  Well I've got 2