---
Wear Your High Heels With Pride
Ladies, we've all been there. You hear from a friend that your ex is going to be a the bar you're going to tonight. So what do we do? We show off our
best self
— hair looking good, makeup on point, dress short and sexy and of course, you wouldn't leave the house without your best friend, your
high heels
.
You are the
QUEEN
when you put on those high heels and now you can add a little burlesque choreography to the mix. You don't need to wear your literal high heels for this choreo babe, your sass and attitude are enough! My favorite move from this
burlesque dance class
 are the leg lifts because I love looking at my legs up high. It makes me feel like a pin up girl. I also love that
Erica
let's you play with your own interpretation of burlesque dance at the end. Maybe add in moves you've learned from other Burlesque Burn classes that you've taken or just feel that music and let your soul talk babe. Plus, this choreo gives me an excuse to bust out my
leg warmers
, not that I need any ? But hey, if you try this with high heels, will you let me know how it goes? Show off your high heels game on
instagram
and use
#hipshaker
so we can give you some love.
My Fave Burlesque Dance Moves
Grab your
leg warmers
and get ready roll all over that floor with us babe. Here's a quick breakdown of some of my fave parts of the choreo. Come and enter a sexy experience with Erica and the girls and let it all go. Own it, queen.
Leg Lifts
The classic pin up pose. Lay on your back and put your arms to a T position and lift your legs straight up. Don't be scared when you have to do the splits, only separate your legs as far as your comfortable with. Trust me, it's still sexy babe!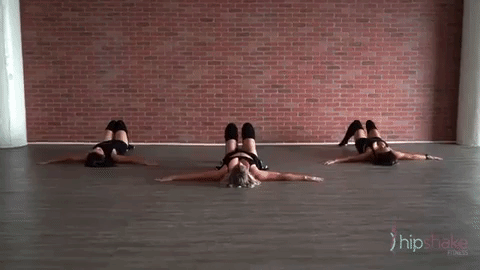 Floor Fan Kick
It's like sexy breakdancing for beginners ?When you roll to your back, quickly kick up your free leg and use that momentum to get on your back. Play around with it a few times to get the right amount of kicking action you need.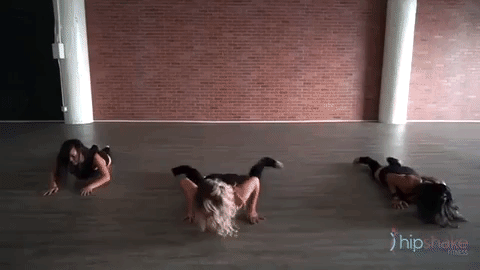 Crawl & Slap
Nothing says burlesque than a sexy crawl and thigh slap. This is when your leg warmers come in handy because it makes crawling easier and even more fun. Then smack your thighs together real quick and be unapologetic about it!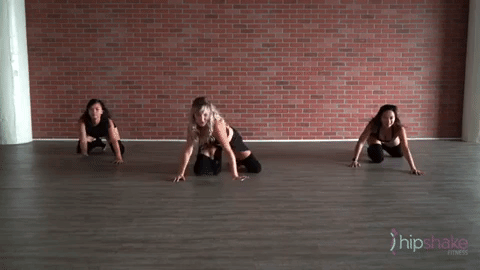 High Heels Burlesque Dance
Press play and let your sexiness take you out of this world. Remember, it's okay if you don't get the moves right away. We all practiced this over and over again. You have the power to press rewind and play, cutie.
More Burlesque Dance Classes
Burlesque Burn
 is a dance workout that combines the strengthening aspects of pilates with the moves of burlesque. Come take a class with 
Erica
 and you'll surely fall in love with your sexy self. This class is available anytime, anywhere on our platform so try it out and 
get your burlesque on.
Download Our 7 Day Dance And Detox And Try Burlesque Dance
For our
7 Day Dance And Detox Challenge
, y
ou get to try 4 premium dance workouts from our studio FREE! The complete challenge includes:
7 days of

 

dance workouts
burlesque dance classes with Erica
build muscle

 

through resistance training
11 healthy recipes

 

that help give your metabolism a boost
Meal-by-meal plan
A supportive community of women and more…
…all yours for
FREE
!
I'm so excited to show off this sexy burlesque dance babes. It's got everything from revenge, thigh slams and leg warmers. There's nothing better than feeling so good and so confident plus add in a little dance and you're good to go.