twerk dance move
from my own sister. She loves to dance that she even studied it in college and now she'll be breaking down classic moves so we can all learn and master it!
---
Twerk Dance For Beginners
I've been doing
twerk dance classes
for a few years now, but I still consider myself a beginner. I often browse through our
beginner twerk dance
 workouts and I still learn something new every time. So when we decided to create a how to video for popular dances, we knew we had to include a classic twerk dance move. We looked through our
Tone N Twerk
library and found the
Single Single Double Squat Twerk
. Our instructors and dancers make it look so easy, but sometimes I need a little more breakdown to really get a dance move, you know?
My sister,
Anne Marie
, is usually the first and last one on the dancefloor wherever she goes. This is her first time teaching so I was pretty excited to get a twerk dance lesson from her since this is a different side of her that I've never seen! It's pretty great having memories of dressing her up when she was little and recreating fashion shows with her and now to have her give me a tutorial on how to twerk. If someone told me 20 years ago that this was going to happen, I wouldn't have believed them. Here's a little
behind the scenes secret
: we filmed this with just us two so we had to frame our whole shot with only one person on camera and just prayed to the dance goddesses that we'll both be in frame at the end of the segment. And it worked out. Woohoo! She did an awesome job explaining each part of this move and now I can use her twerk dance tutorial whenever my booty gets lost.
Anne Marie, Our Beginner How To Instructor
Help me welcome our twerk for beginners dance instructor and my sister,
Anne Marie
! She has a minor in dance and you can see her shaking her stuff all around the Los Angeles musical theatre scene. She's going to break down more popular moves and you won't want to miss it. Give her love and a follow on instagram,
@anniesaurous
and see what she's up to! If there's a move you want us to breakdown, leave a comment or give us a shoutout on 
Instagram
 with
#hipshaker
??
1. Squat Twerk Dance
First part of this move is learning the
squat twerk
.
Anne
points out that your booty's goal is to reach the back of your head. So pop that booty babes and practice. If you don't get it right the first time, that's ok, that's what these twerk dance tutorials are for.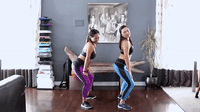 2. Single Side Twerk
Now the next part of this move is learning the
side twerk
. This is similar to a regular twerk but now your booty and hips work together to pop to the side. Whichever side (left or right) you want to start from, just remember to swing your hips that way and your booty will follow ?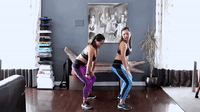 ---
Unleash your feminine expression by learning to dance! We've got online dance classes that empower women on our virtual dance studio. Tone N Twerk is a class starts with a toning routine that tightens your glutes and ends with a fun twerk dance.  Get a FREE Trial Today! JOIN HERE.
---
3. Single Single Double Squat Twerk
Now to put that all together and double it!
Double squat twerk
consists of doubling your twerk dance on one side. And it usually alternates from one side to the other. It's like magic that it just works out that way.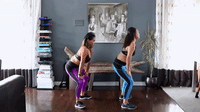 Beginner Twerk Class
Get the full breakdown from Anne Marie and be the master of your own
twerk destiny
! And start your twerk dance journey when you sign up to become a dance studio member today.
Tone N Twerk Workouts Anytime, Anywhere
Learn how to twerk anytime, anywhere. We're your go-to on-demand dance classes. We incorporate fierce cardio dance and toning in our dance studio. PLUS, our twerk workouts for beginners are always available
24/7, 365 days
! Stay fit on your own schedule with us and try our dance workouts today.
Try A FREE Tone N Twerk Workout NOW!
Every
Tone N Twerk
workout
starts with a toning routine that tightens your glutes. Then loosen up and learn a fun twerk dance that will surely make you feel sexy. 
Join us for Beginner Twerk. A 20 minute Tone N Twerk Dance Workout. You will learn how to isolate those glute muscles and get more twerk moves that you can bring with you to the club or just at home. We start with the Shuffle Twerk, Up Down Twerk, Pop Back Twerk then end with more advanced moves like the Pushup Twe
If it's your first time, don't worry Nicole Steen will offer modifications. You got this babe and we're here for you!
Unlock your
FREE Tone N Twerk Dance Workout
video today.
They say "Sisters who teach twerk for beginners have the most fun". Ok maybe they don't say that but I did have a lot of fun learning a