Kelis
! Milkshake was every girls JAM. Now you and your girlfriend can
twerk dance
to this forever favorite thanks to
Nicole
. She made a fun and flirty twerk dance choreography that will not only make you love this song more, but you'll also get an great workout out of it!
This choreography starts in the chorus where Kelis goes "My milkshake brings all the boys to the yard…" you start with arm and booty pumps
1. Arm and Booty Pumps
The first move in achieving total Milkshake twerk dance dominance is the Arm Pumps with Booty Pumps. So there are two things you need to combine to get this move. First, the arms, imagine pushing off with your hands, kind of like a standing push up. Second, your booty, push off by thrusting your hips in and out. Try this out slow first, trust me, it takes time to get as fast as Nicole, but when you do, oh you'll feel soooo accomplished!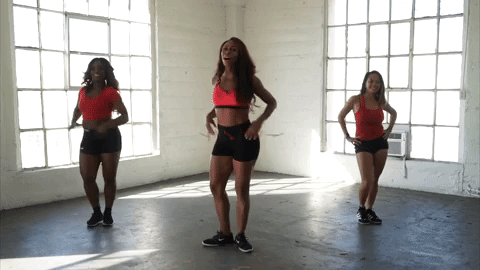 2. Diva Walk Plus
"I know you want it, the thing that makes me…"
One of my absolute favorite
Nicole
move is the Diva Walk. It makes me feel so confident in my stride and then she always adds a sexy move with it. This time around she adds two hip circles. You basically draw a circle with your butt in the air. The first hip circle happens with your hands touching your hair which is also a great time to fix your hair ?. The second hip circle is done in a squat position with your hand on your thighs. Fun fact, my hip circles are always opposite Nicole's (lol). That's just how my butt circles and that's totally ok!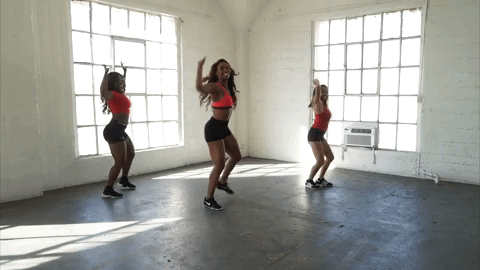 ---
Unleash your feminine expression by learning to dance! We've got online dance classes that empower women on our virtual dance studio. Tone N Twerk is a class starts with a toning routine that tightens your glutes and ends with a fun twerk dance.  Get a FREE Trial Today! JOIN HERE.
---
3. Side Twerk
"for… (beats), they loose their mind"
So now let's Twerk it out, sista! This is a pretty easy type of twerk, at least in my book because you get a little help from your foot and legs to pop that booty. The harder you swivel your foot, the better your booty pop will look. Also, the lower you squat, the more you can show the world what you're twerking with! You can definitely try out just one side first to get the feel of it the move to the next side.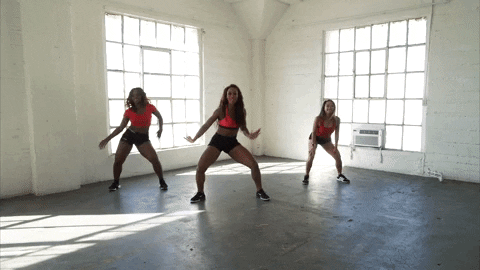 4. Hip Rolls
"La-la-la-la-la, warm it up!"
Last move of the chorus is a fun around the world, Hip Roll. Same concept as the hip circles from before, but this time you move one leg to make you face the other side. And of course, you gotta shakey shake that booty too. For me, it was easier to do this with my right leg than my left, but I kept practicing and after a couple of tries, I finally got it! I felt so proud of myself and you will to.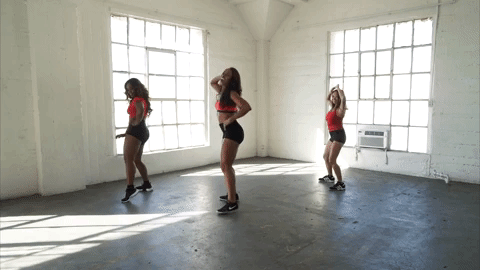 Check out the Printer Friendly version HERE.
Why I love this choreography
Nicole did such a great job of making this choreo a perfect combination of
fun and sexy
. I represent the small booty army and even this made me feel like I had a
badonk
. This dance made me feel really good about myself while doing the moves. It made me feel confident and sexy even on my worst days. I just put this on or any other
Tone N Twerk
choreography and I know I'll feel better, plus I get an amazing workout at the same time!
Watch the Choreography for the full song below!
Online Dance Workouts Anytime, Anywhere
We're your go-to on-demand
dance classes
. Our classes are always available
24/7, 365 days
! Stay fit on your own schedule with us.
Subscribe today and

 

immediately get access to:
✔️ ALL our Dance Workouts & Choreography  (200+)
✔️ Weekly Workout Schedule
✔️ NEW Workouts Weekly
✔️ Goal Specific Workout Programs
✔️ Paleo Recipes
and more… for only $18 a month.
Everyone remembers this 2003 classic from my girl,