Twerk classes
can do that for you too.
---
Tone N Twerk Dance Workout
There's something to be said about a woman who's
comfortable in her own skin
and will twerk the day away. Done are the days when we're ashamed of shaking our booties to that new
Cardi B
song. We're here and we will shake what our mama's gave us! Twerk dance makes me laugh, sweat, smile, sore and feel really good. I want to
change the narrative
of what twerking is about because it's been a big part of my dance fitness journey.
The first time I tried twerking with
Nicole Steen
I was in over my head. But she is such a great teacher that I felt comfortable feeling vulnerable with my friends by my side. And I stand by my statement when I say there's nothing better than dancing with your best babes. Seriously,
Nicole
is so good at making you feel saucy about your twerking skills. From Booty Pops to Side Twerks, she's got you covered and believe me, you'll want to keep practicing over and over again. Not only to get these moves down, but also because it's just that fun. I want to go through some of the moves that really helped me when I was starting out my twerk dance journey. These are basic twerk moves that will help you along the way and it's definitely easy to make these booty shakes your own. Check out the moves below and let me know what you're practicing with
#hsfteam
on
Instagram
so I can give you some love, bootyful!
If you don't get it right away, don't worry! I've been twerking for 2 years and I still don't get all of it. It's all about having fun babes! Shake that booty proud!
1. Booty Pop
The number one thing to learn is that your booty is trying to reach your head. You read that right, not literally, but that's the action you want. It's weird because you don't realize how many muscles you have on your butt and your lower back until you train to twerk. Total new appreciation for my muscles.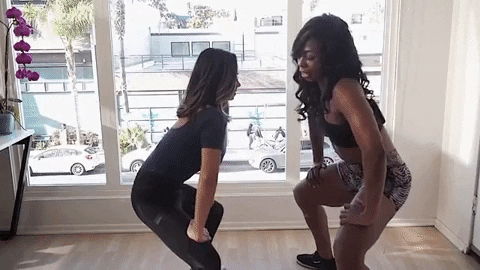 2. Shuffle Twerk
I love to shuffle twerk! It's like a new version of the twist and who doesn't love the twist? This move really works your calves and you feel that booty jiggle. And babe, your booty SHOULD jiggle here. Get that thickness and let it loose! You basically sit on the heel that you twist to and have fun.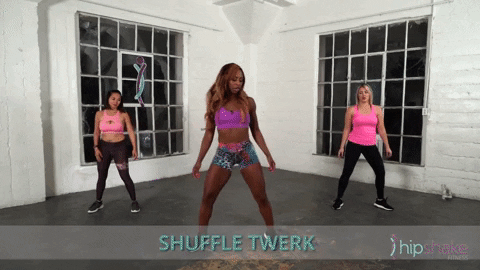 3. Knee In
Work them knees babes. You notice when Nicole's knee comes in, her booty pops up. This move burns your thighs so the more reps you do, the more it burns. How many reps can you do in one sitting? I think I can do about 20. Can you top that babe?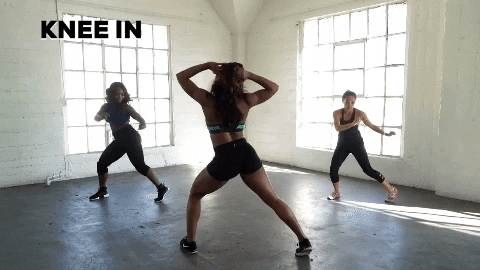 4. Side Twerk
Booty pops everywhere and that's the way I like it! This is a basic move that can be sped up to make it an advanced move. I started super slow to the right and kept it to the right until I was ready to swing over to the left side. When you get your rhythm going, it gets easier to switch from one side to another.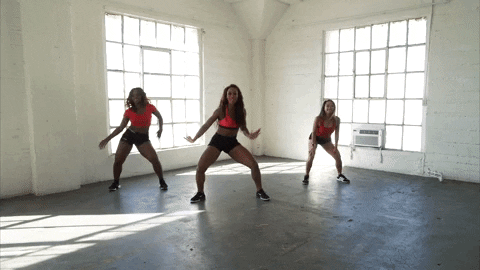 Learn How To Twerk In 5 Minutes
Get a little taste of our Tone N Twerk 101. It only takes 5 minutes and if you want the full workout, it's available when you sign up to become a dance studio member.
Twerk Dance Workouts Anytime, Anywhere
Tone N Twerk with Nicole starts with toning that will sculpt your booty and ends with a fun twerk dance. 
 Stay fit on your own schedule with us and try our dance workouts today.
Download Our 7 Day Dance And Detox And Get More Twerk Dance
For our
7 Day Dance And Detox Challenge
, y
ou get to try 4 premium dance workouts from our studio FREE! The complete challenge includes:
7 days of

 

dance workouts
twerk dance workouts with Nicole
build muscle

 

through resistance training
11 healthy recipes

 

that help give your metabolism a boost
Meal-by-meal plan
A supportive community of women and more…
…all yours for
FREE
!
Twerk dance landed in my life and I've never looked back… except to look at my booty while I twerk ? Twerking has changed my fitness journey for the better and it can have the same result for you! I love feeling sexy, strong and comfortable in my own skin.