Mariah Carey
's
All I Want For Christmas
can be heard all throughout the world. It's really a classic Christmas song and dance combo that will make you smile! Tis' the season for dancing after all. I'm so happy that 
Nicole Steen
 created this
sexy and flirty Christmas dance choreography
for all of us to learn.
All I Want For Christmas Dance Choreography
Here's our  fun, flirty and festive dance choreography to the classic Christmas dance hit. Learn the dance choreography for your company Christmas party, your family gathering or just for fun! We've broken down the moves below. Get the printable PDF of the moves
here
.
Dance Step 1: Grapevine Turn
The very first move you need to learn in this Christmas dance  is the
Grapevine
. Let's try it on the right side first, step your right foot to the right and step your left foot behind your right. Repeat the same step for the right foot and instead of placing your left foot behind the right, step it in place. Repeat this on the left side. This is very similar to
The Hustle
without the disco.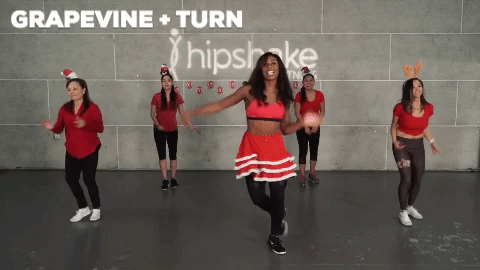 Dance Step 2: Heel Digs
How I remember this move is I think that there's a bug in front of me and the only way to squish it is with my heels. Easy enough right? Now the tricky part is doing it in a single-single-double format in Nicole's flirty Christmas dance choreography. Here's a dance tip, which ever foot you started with will do the "double" part of the combo. So heel dig away!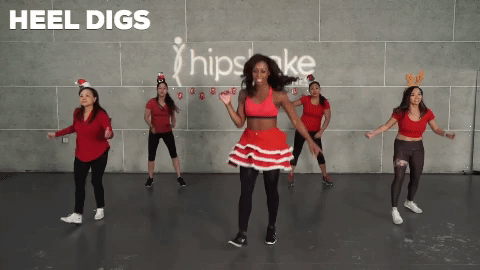 Dance Step 3: Shakey Shake Those Hips
This is probably the most fun move in the whole dance choreography that sometimes I just stay on this move for a whole chorus. I know most people see the hand and hip movements and go "Whoa! I can't do both at the same time!", yes you can! Whatever direction your hips go, your hands go too. They're a team! ?‍♀️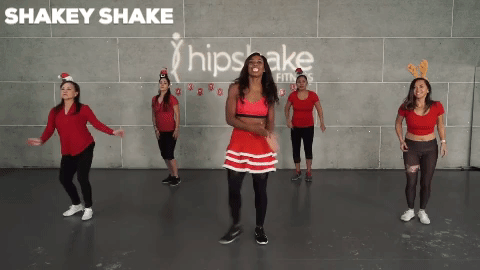 Dance Step 4: Pony
This move is basically a skipping move. You skip in place and the first hand gestures is just your right and then left hand pointing forward. And the next set of arm movements are right then left arm reaching up. So skip on away to Santa baby!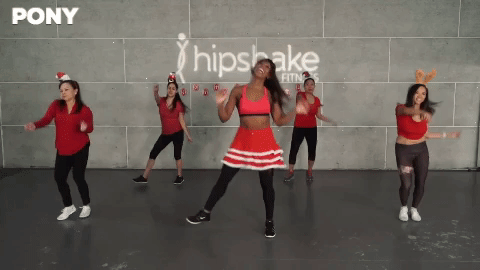 Dance Step 5: Go Go Turn
Where my go-go girls at? You can be one too this holiday season. Raise your hands up and move it in a circular motion above your head. At the same time, use your right leg to turn yourself around while moving your hips in the same motion as your arms. Channel your inner Peppermint Lounge go-go girl and go that Christmas ham! ?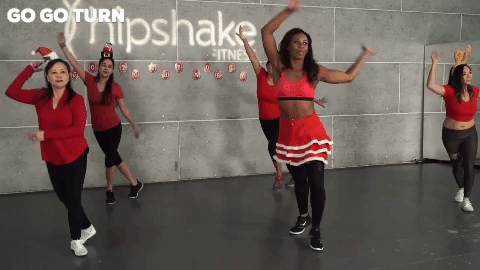 If you don't get the steps right away, don't worry babe! You can repeat the video as many times as you want. We practiced these dance moves so many times before we did this shoot. PLUS, the most important thing is we're all
dancing
and
having fun
. I'm certain you are gonna rock this Christmas dance choreography in no time babe!
Online Dance Workouts Anytime, Anywhere
We're your go-to on-demand dance classes, especially through the holiday. Our classes are always available 24/7, 365 days! Dance through the holidays and beyond with us.
Subscribe today and immediately get access to:
✔️ ALL our Dance Workouts & Choreography  (100+)
✔️ Weekly Workout Schedule
✔️ NEW Workouts Weekly
✔️ Goal Specific Workout Programs
✔️ Low Carb Recipes
and more… for only $18 a month.
Once December 1st hits,