---
How To Twerk Step By Step
I love learning
how to twerk
and the different moves that comes with it. I'm amazed at the progress that I've made from my first ever twerk class to now. Practice definitely is your friend when it comes to twerking.
My first encounter with the Push Up twerk is in one of Nicole's
twerk dance
workouts. I was hooked from the beginning and then she brought it back for our Thotiana choreography. I was a couple months pregnant and didn't know if I was going to be able to do it. I knew I still wanted to try and I practiced and felt really good. I can't do it as fast as Nicole, I mean no one can, but I twerked my little preggy booty away and was super proud of myself for slaying that choreography. Now you can practice at home so that you can show off your booty too. I know you're going to love how challenging and rewarding this move can be. You got this babe!
Twerk team assemble
 on
instagram
 and use
#hsfteam
 and tag us
@hipshakefitness
on your twerk posts so we can give you some peaches?
How To Twerk Step By Step: Push Up Twerk
Step 1:
The first step is to get on all fours. For this choreography we go from reaching both hands up in the air and bending down to get on all fours. You are definitely allowed to bend your knees here babe, that will give you more bounce when you actually pop your booty to twerk.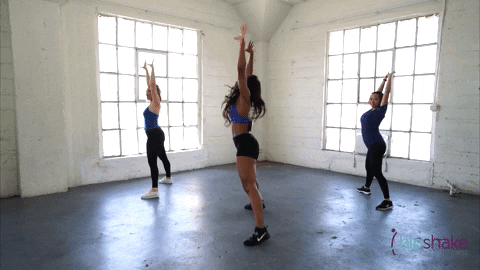 Step 2:
Next step is to get on the balls of your feet. Use that bounce to let your booty jiggle while you do a push up. Go as low as you can without losing your balance. I practiced doing the push up move first and then added the actual twerk. It'll help get your body accustomed to the movement if you do it that way.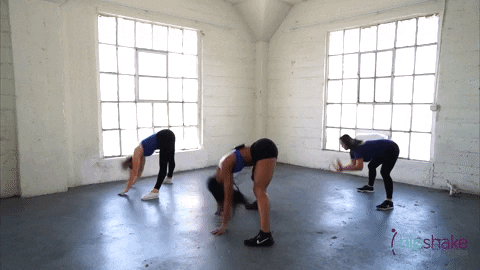 Full Push Up Twerk Move
Then you just push up over and over again until you're satisfied with your twerk move! You can add variations to it like the one handed push up twerk or you can go super slow or super fast. Own it and show off that bouncy booty, babe.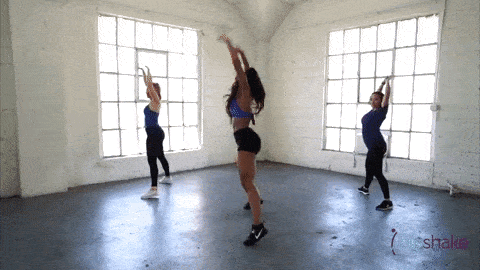 Thotiana Twerk Choreography
Want to learn a full routine including the Push Up Twerk? We got you, boo. Put those booties up in the air and bust down with our Thotiana twerk choreography. It's a little hip hop, a little twerk and a whole lotta sass in one routine.
How To Twerk Classes Online Anytime, Anywhere
Learn how to twerk with Nicole at home today. Our Tone N Twerk dance classes start with booty toning and end with a fun twerk routine. This is just one of the dance workouts available in our studio, babe. We've got 200+ fierce and feminine dance classes available for you online anytime anywhere. Join our dance studio today and get a
15 day free trial.
Download Our 7 Day Dance And Detox And Learn How To Twerk
For our
7 Day Dance And Detox Challenge
, y
ou get to try 4 premium dance workouts from our studio FREE! The complete challenge includes:
7 days of

 

dance workouts
twerk dance workouts with Nicole
build muscle

 

through resistance training
11 healthy recipes

 

that help give your metabolism a boost
Meal-by-meal plan
A supportive community of women and more…
…all yours for
FREE
!
Today, we're learning how to push up twerk and we're breaking it down step by step. This is one of my ultimate party tricks and I even got to do this on a YouTube video while I was pregnant so I know you can do it too!