---
At Home Barre Workout
Who took ballet classes when they were young? ??‍♀️I think most of us did and we either stuck with it or we moved on. Ballet will always be my first love, but when I was younger I got way too skinny and my mom took me off the ballet class. It was a bummer, but you never forget your first love.
Ballet techniques aren't exactly my best friend anymore, but I still love how ballet moves make your legs strong. That's why I'm so glad that barre exists. It's a class that usually uses a ballet barre and incorporates ballet moves to help you with
strength and flexibility
. So how do we make this accessible to everyone? Not everyone has a ballet barre, right? Luckily,
Diane
created
Blissful Barr
e which combines
ballet, yoga and pilates
to give you a total body workout right at home! Isn't that great?? For your ballet barre, all you need is a chair with a back and you're good to go! Ever since I started doing
Blissful Barre
, I've noticed that my flexibility has improved and my legs are so much stronger. Occasionally, Diane will even do
barre arm strength
and I definitely need help in that department too. So are you ready to take your barre leg game to the next level babe? Come meet me at the barre ? Show off your barre photos on
instagram
and use
#hipshaker
so we can give you a virtual high five ?<p/P
1. Relevé
I'm a big fan of the relevé. It makes your calves strong AND it makes you feel tall. When you repeat this move, your calves will be on fire in no time! Use the chair for balance or put your hands in front of you and try to balance on your own.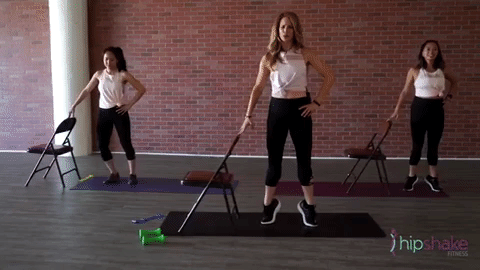 2. Tuck in Relevé
Tucking
is so great for your core and your lower body. It engages muscles that you didn't even know you had! Combined with the relevé, you'll be super leggy and super strong and you'll definitely be sore in the morning too.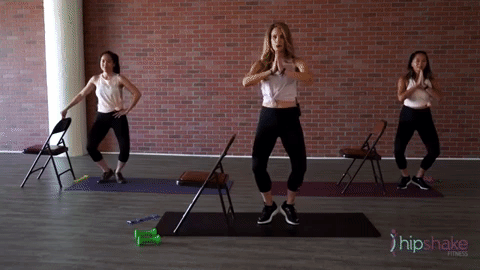 3. Butterfly Bands
Ooh get those
resistance bands
out babes. This ain't your normal butterfly move, this is a strong, tip toeing butterfly like you've never seen before. I love adding bands to my workout and seeing my progress from light to heavy bands. A little motivation goes a long way.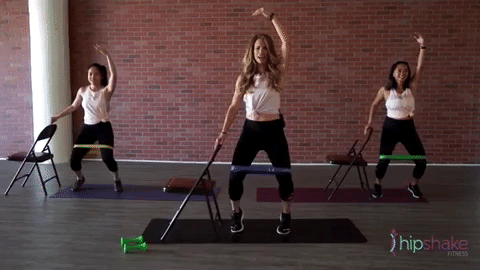 4. Curtsy Squats
Fancy a squat?
Squats
are good for your lower body muscles and overall strength. This move also challenges your balance for each leg. Which leg do you stand on more often? Is your balance better on one than the other?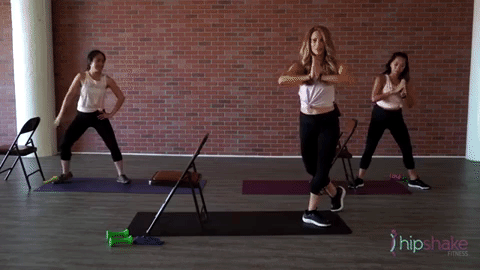 5 Minute Lower Body Barre Workout
Checkout this 5 minute lower body barre workout with
Diane
and get those legs burning and make em oh so strong! And get 15% off your first order from
WakingBee
with code HIPSHAKE15
Blissful Barre Workouts Anytime, Anywhere
We're your go-to on-demand dance classes. We incorporate fierce cardio dance and toning in our dance studio. PLUS, our workouts are always available
24/7, 365 days
! Stay fit on your own schedule with us and try our dance workouts today.
Download Our 6 Day Hip Hop Reboot And Get Started On Your Dance Journey Today
For our
6 Day Hip Hop Reboot
, y
ou get to try 4 premium dance workouts from our studio FREE! The complete challenge includes:
6 days of

 

hip hop cardio dance workouts
Barre workouts from Diane
build muscle

 

through resistance training
9 healthy recipes

 

that help give your metabolism a boost
Meal-by-meal plan
A supportive community of women and more…
…all yours for
FREE
!
Need a lower body workout that will make you sweat in no time? Try our at home barre workout! It's only 5 minutes, but I guarantee your lower body muscles will be screaming… screaming for more ?