Twerk Classes For Preggy Mamas
I've been very active before my pregnancy and wanted to
keep that lifestyle
even with a baby on the way. Of course, I had to make sure with my doctor and got the green light to workout before even going full out. When I finally did, I turned to our 
twerk queen
,
Nicole
for my dance workouts.
We shot our
twerk classes
with
Nicole
on my second trimester and it was so fun, but also had challenges that came with it. The crew made sure I was comfortable, hydrated and
Nicole
made sure I knew
how to twerk
with modifications for the more bouncier or harder moves. I'm so proud of myself for completing our dance shoot and thinking about it keeps me empowered and inspired to keep this healthy lifestyle up til the little one comes out. He'll probably come out dancing ??
Our twerk classes start with booty toning workouts and ends in a super fun twerk choreography. Be part of this twerk revolution and checkout new twerk workouts on our 
instagram
 and tag 
#hipshaker
 on your posts so
 we can give you some love ?
1. Do you exercise regularly while pregnant? what kind of workouts do you do?
We got pregnant via IVF so I knew right away when I was "pregnant" or rather when the embryo implanted. The first 2 weeks after the  embryo transfer and before the blood tests to see if we were pregnant I didn't do much just made sure I walked a lot. When we found out that we got a positive test, I only did very low impact activities like walking or swimming because I was still worried about a miscarriage. After we saw the heartbeat which was probably around 6 weeks, I went back to my dance workouts with Hip Shake Fitness. I just didn't do any jumping. Since then I have been working out 4-5 times a week. Mostly dance workouts but I've also added yoga once a week.
2. 
Do you think working out is safe for pregnant moms?
First off, you should definitely check with your doctor and get an OK to workout when your pregnant. Not all pregnancies are the same. I've got a ton of friends who had complications during their pregnancy and they were advised to not do a lot of physical activity. I am very grateful that I've had an easy pregnancy so far and haven't had any complications. It seems counter-intuitive but the
official advice from The American College Of Obstetricians and Gynecologists
is that physical activity does not increase your risk of miscarriage, low birth weight, or early delivery. They suggest 30 minutes of physical activity for women daily. Personally, since I workout regularly, on days when I don't I get really antsy so having a regular workout schedule keeps me grounded and helps me sleep better too.
---
Unleash your feminine expression by learning to dance! We've got online dance classes that empower women on our virtual dance studio. Tone N Twerk is a class starts with a toning routine that tightens your glutes and ends with a fun twerk dance.  Get a FREE Trial Today! JOIN HERE.
---
3. What modifications have you made since you've been pregnant?
I don't do too many jumps now. If a move requires jumping, I'll just change it to a step by step. I also try not to put weight on my stomach so I don't do any 
cobra stretches
. I've replaced those with 
cat / cow poses
. Since I'm on my 5th month of pregnancy now it's not advisable to  lay on my back. Being on my back 
puts pressure on a main vein
 in my body and can cause complications. If there's any workout that's on the back, I'll do the same workout while kneeling or if it's a leg lift I'll use a chair.
4. Do you think 
twerk
 dancing is a safe workout for pregnant women?
YESSSSS girl! I personally love 
twerking
 whether I'm pregnant or not. I find the moves so empowering. I think it's because I grew up with a smaller butt and 
twerking
 makes me feel really sexy and empowered when I'm moving my butt. So #1 it's empowering and makes you feel sexy and every pregnant woman should feel sexy! Secondarily butt workouts are great for pregnant women. It supposedly helps us develop similar muscles needed to give birth. So tone n 
twerk
 is definitely my workout of choice while pregnant since it's booty workouts combined with 
twerk
 dance!
pregnant woman should feel sexy
5. how did you feel after doing the 
twerk
 shoot with Nicole?
I was a bit worried because I've never done a shoot while pregnant and of course, Nicole added a pushup 
twerk
 which was really intimidating because it looked really hard. However, after I completed the dance workout I felt so good afterwards coz heeeey this 
preggy

 mama can still 

twerk
! Eeeeeeeeyyyyyy.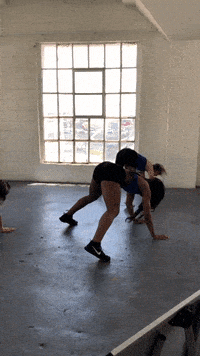 6. Got any advice for other pregnant moms to be looking to do dance fitness?
I love dancing and working out at the same time. It's fun, makes me feel free and most of all feminine! One of the things about being pregnant is that It can be harder to feel good about your body especially because you feel bloated. Dance workouts help me feel empowered and ready to take on the world. Don't be afraid to let it go 
preggy
 mama! We're in this together.
Checkout how I handled a 10 hour shoot with my baby bump in tow
Twerk Classes Online Anytime, Anywhere
Learn how to twerk and access all Tone N Twerk workouts with Nicole anytime. We're your go-to on-demand 
dance workouts
 and we're open 24 hours, 365 days a year!
Download Our 6 Day Hip Hop Reboot And Try Your First Twerk Class Online
For our
6 Day Hip Hop Reboot
, y
ou get to try 4 premium dance workouts from our studio FREE! The complete challenge includes:
6 days of

 

hip hop fitness dance workouts
twerk classes from

 

Nicole
build muscle

 

through resistance training
9 healthy recipes

 

that help give your metabolism a boost
Meal-by-meal plan
A supportive community of women and more…
…all yours for
FREE
!
Twerk classes are for everybody, even you preggy mama! Read all about the benefits of dance workouts and twerking with me through my pregnancy. Find your new fave workout and twerk that cute pregnant butt of yours.