I grew up in Asia and African dance is not very common there. When I first tried an African dance class, I was at a loss. Good thing I had a really good instructor. Zen Nina is a master Afrovibe trainer. She has tons of available on demand dance workouts on our platform. Zen has helped me break down some basic African dance moves so you too can learn it.
What is Afrovibe?
Afrovibe is a fun and exciting way to burn calories. This dance workout uses
African dance
techniques that uses all your muscles and it even helps improve
flexibility
and
strength
. It honestly doesn't feel like I'm exercising when I take a class, but I end up super sweaty after and feeling so good!
Side to Side Step
The first move you'll learn from our Afrovibe 1, is the
Side to Side Step
. This combines stepping from side to side while you squat and move your arms. This seems like an easy move, but the more reps and the lower your squat goes, the more calories you burn, baby!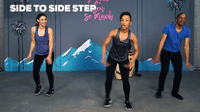 Knee in with Arms + Chest
This is a combination move. The first part of the move is the 'knee in' and for this you will also squat and move one knee at a time towards the opposite knee. The second part of the move is raising both arms like calling a touchdown and then lowering it while pumping your chest up and down.
Practice makes perfect
for this move, get the rhythm and the moves will come naturally.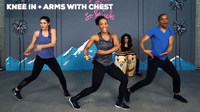 Hip Rotation + Push Back
It's all in the hips. This is a fun move that uses the whole body. You lead with your legs and hips and do a sexy little hip roll and then get aggressive with a jump up and push those arms back. I love the contrast of this move because the first half is almost sensual and the second half is so
hard
that it lets you
get creative
with your own flavor.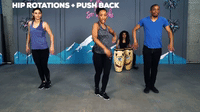 5 Min African Dance Fitness
Now you've learned a few moves, try our African dance fitness class. Zen will have you moving the whole time and sweating, but you won't feel like you're working out. You'll feel like you're having a dance party right at home. The live beats from Indigo will transport you to a whole new vibe that you never knew you needed. Join Grace & Darrel and get your dance on.
African Dance Moves Anytime, Anywhere!
Afrovibe 
is just one of the hundreds of dance classes available in our
online dance workout studio
. We are an inclusive and supportive community of women who are on a journey to get fit through dance.
Download Our 7 Day Dance And Detox And Try Online Dance Workouts
For our
7 Day Dance And Detox Challenge
, y
ou get to try 4 premium dance workouts from our studio FREE! The complete challenge includes:
7 days of

 

dance workouts
build muscle

 

through resistance training
11 healthy recipes

 

that help give your metabolism a boost
Meal-by-meal plan
A supportive community of women and more…
…all yours for
FREE
!