---
Fitness During Pregnancy
Pregnancy is hard. There are so many changes in our body that we have to deal with. Plus, you're preparing for a big change in your life. Staying active during my pregnancy helped keep me grounded. I felt stronger and less achy. However, it was hard to find a dance program that was made for me. That's why we created one.
We've put together a 2-week program of dance cardio, yoga and strength that's perfect for us preggy mamas.
I shot the workouts in the Bumpin' Body program during my 2 pregnancies. I want to give you a list of modifications and tips so you can learn how to safely workout during any trimester. You will find these moves throughout the program and you'll also find me in the workouts so you can look to me for modifications too. Babe, always
 listen to your body and give yourself grace. You deserve it.
Preggy mama's, I want to see your moves on
instagram
! Use
#hsfteam
 and tag us
@hipshakefitness
on your posts so we can give you some love.

Planks
Regular
Planks are a great way to improve your balance and strengthens your core and your back. Even when you're pregnant, planking is an ideal workout because it puts less pressure on your spine, but if you're farther along, it might be a difficult position to stay in.
Modification
Knee planks are a great alternative to regular planks. The idea is to have your knees behind your hips and not directly underneath them.
Side Planks
Regular
Side planks strengthens three muscle groups at once: your shoulders, hips and the sides of your core. This move can also improve your balance, but it can be hard to hold this move if you're pregnant.
Modification
Knee down side planks can still strengthen those three muscle groups mentioned above. This modification is more gentle on your legs and is easier to hold.
Child's Pose
Regular
We love a child's pose, but with a bump on the way, we can't do it the regular way anymore. This is a great stretch to ease back tension and increase circulation.
Modification
Spread your knees and bend for the modification. This will make it easier to bend down and will still give you a great stretch and help catch your breath in the middle of a workout.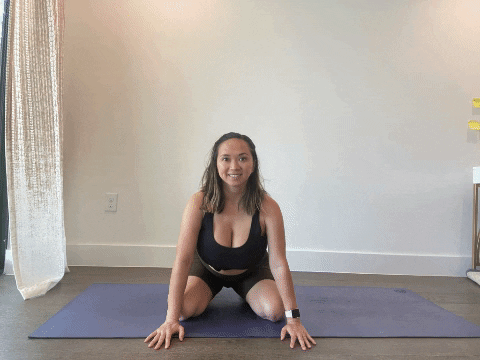 Figure Four
Regular
Another great stretch is the Figure Four stretch. This move targets the hips, lower back and the glutes, but laying down with more weight on your core can be difficult to get up from and it can be hard to reach your legs to stretch.
Modification
A simple way to modify this move and still get a great stretch is to do it sitting up. You will still target the same areas without having to lay all the way down.
Squat Jumps
Regular
Squat Jumps are a great way to strengthen your legs and your glutes, but I know that jumping can be difficult during the later trimesters.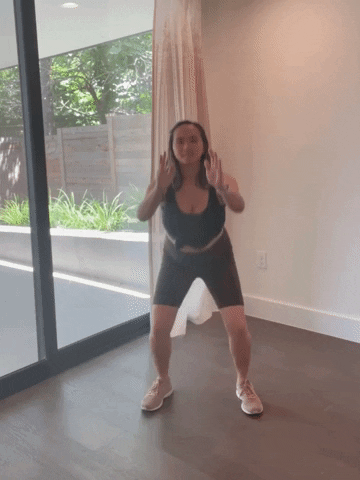 Modification
Do regular squats and remember to squeeze that booty on the up. Even if you're not doing the jump, you will still engage your lower body and keep it strong.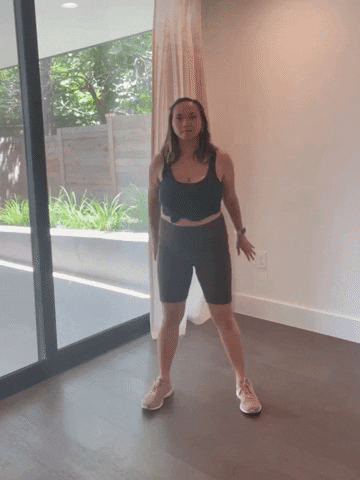 Leg Cross With A Twist
Regular
I love a good stretch and twisting the upper body is definitely one of my favorites. Open twists are fine during pregnancy but if you're going to have your legs crossed in some kind of way, then go for the modification.
Modification
The modification is easy! Go for the no twist. If your legs are crossed, you will still feel a stretch in your hips without compressing your abdomen.
Workouts Lying Down
Regular
When a workout calls for you to lay on your back, it might stress your spine and we don't want that for our sake and for our baby's sake.
Modification
A great way to still get floor workouts done is to do them on a chair. You can still work those bands like you would on the floor, but this way you don't put pressure on your spine.
Happy Baby
Regular
Ooh I love a Happy Baby stretch, but again, when you're pregnant try to avoid moves that will have you laying flat on your back. Ease the pressure on your spine and do a different stretch instead.
Modification
I suggest going for the modified Child's Pose. This is my go to stretch when I'm pregnant because it helps me catch my breath, opens up the hips and relaxes my body.
Leg Cross Reach Over
Regular
Obviously, we can't reach over ourselves when we're pregnant because of the bump. Plus, you don't want to squish that miracle growing inside you.
Modification
Get the legs stretched by crossing them, but stay up right. You'll still get a good stretch out of this position even without reaching over your head.
Push Up Twerk
Regular
Twerking mama's, I know you want to do it all! The push up twerk is my absolute fave, but it gets harder to do the longer our pregnancy goes.
Modification
Just because you're pregnant, doesn't mean you need to give up your twerk crown. Grab a chair and use it as your floor and do your push up twerk with a prop! It's so much easier to get back up and get your twerk on.
Dance Workout Programs On-Demand
Bumpin' Body is just one of the workout programs you can try on our site. We're your go-to on-demand 
dance workout
studio. Our classes are always available 24/7, 365 days!
Subscribe today and

 

immediately get access to:
✔️ ALL our Dance Workouts & Choreography  (200+)
✔️ Weekly Workout Schedule
✔️ NEW Workout Videos Weekly
✔️ Goal Specific Workout Programs
✔️ Low Carb Recipes
and more… for only $18 a month.
Working out while pregnant? Heck yes! More power to yah babe. I'm giving you a list of modifications for moves that you might encounter in your preggy fitness journey.