Dance workouts
are a great way to stay fit while having fun. And there's nothing better than learning a new type of dance like
Brazilian Warrior Workout
. Today we'll be focusing on
Maculele
, a traditional Afro Brazilian dance.
Dance Workouts That Kick Ass
Our
Brazilian Warrior Workout
is such a great full body workout it will leave you feeling empowered! A big part of this is
Jessica
, the instructor, and her passion for this dance tradition. You can feel her energy burst through the screen and she always reminds you to smile which I personally forget to do when I'm working out.
Maculele Workout
Here's a few basic moves that you can use to kick start your dance workout. These are all taken from our
Brazilian Warrior Workout 4
.
Basic Maculele Strike
Maculele
uses sticks or grimas that go with the rhythm of the drum. You can use kitchen utensils or a ruler or just your hands and clap to the beat if you don't have sticks. Keep your body loose and strike at the count of 1.
Maculele Run
This move is a little bit of a
brain twister
because you have to keep your legs moving one way while striking your grimas above your head. Don't be afraid to lean forward and use that strong core for balance!
Around The World
This one is a personal favorite,
Around The World
lets you strike your grimas 4 times and is a whole body workout. Learn to control your standing strength while your upper body moves around in a circle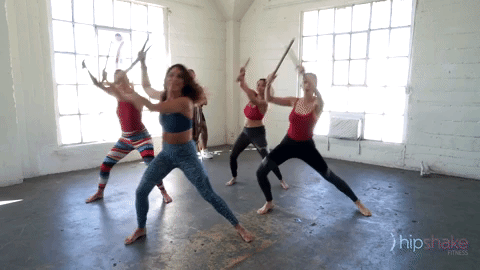 Basic Brazilian Dance Moves In 5 Minutes
Afro Brazilian Dance Workouts
We've got more
Brazilian Warrior Workout
waiting for you. Learn more advanced moves and feel
strong and powerful
. Sign up today and start your
dance workouts
anytime, anywhere!