learn how to twerk
even if you have a small butt. It doesn't matter what your mama gave yah, shake it, own it and twerk it, babe! We're breaking down some basic twerk moves with our Booty Queen, Nicole Steen so you can twerk it and brush off the haters.
How To Twerk For Small Butts
Twerking
can be intimidating and often times people assume you need a big butt to be able to do it. Well I got news for yah, I'm a
small booty chick
and all I want to do is twerk it!
I learned from the best,
Nicole
and you can too. I love her spunky attitude and no nonsense way of teaching. She makes you feel very comfortable and very
sexy in your own skin
. Plus, I don't know about you, but have you seen her twerk? It's mesmerizing. She's amazing and she's a total booty inspiration. So I channel my inner Nicole and try to reach my twerk dreams! Learn how to twerk with me and Nicole below! And show off your twerk skills on
Instagram
with
#hsfteam
.
1. Basic Twerk Dance
First things first,
you better squat
, babe. Stay in a squat position, hands on your thighs for support and pop your lower back muscle up and in. That's your basic twerk. This is a great lower back, abs, legs and booty workout– try this move a few times slow and then speed up. You'll really feel that total body burn.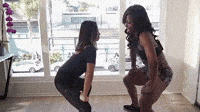 2. Side To Side Twerk
This is a little fun variation to the Basic Twerk. You switch your weight between your legs while you pop that booty. I think the challenging part about this move is staying on beat. Since you're switching from side to side, sometimes you get confused with which muscles to move. Keep practicing and I promise, muscle memory will kick in.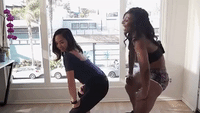 3. High Low Twerk
We twerk high, we twerk low. Using your chest, stand up straight and pump it forward then bend down to a basic twerk! Repeat that a few times and add a little speed and you'll be in business. Challenge yourself and change the levels from going up to going even lower. Of course, don't forget to add your own flavor to your twerk and let that booty fly, babe.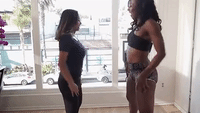 Private Twerk Dance Lesson
Your very own twerk lesson from Nicole is here. Learn how to twerk even if you have a small butt, it's not about that! Your confidence is all that matters. Don't be ashamed of your booty game, girl.
Twerk Dance Anytime, Anywhere!
We're your go-to on-demand 
dance workout
 studio. Our classes are always available 24/7, 365 days! Get more twerk dance classes with Nicole Steen today and get full classes when you become a member.
Download Our 7 Day Dance And Detox And Learn How To Twerk
For our
7 Day Dance And Detox Challenge
, y
ou get to try 4 premium dance workouts from our studio FREE! The complete challenge includes:
7 days of

 

dance workouts
how to twerk classes with

 

Nicole
build muscle

 

through resistance training
11 healthy recipes

 

that help give your metabolism a boost
Meal-by-meal plan
A supportive community of women and more…
…all yours for
FREE
!
You can