squats
are a must to add to your workout routine. There are so many benefits to this simple move, but most of the time I get bored of doing just regular squats. So, I incorporated dance to the squat to make it fun and add variety! I hope you're ready to start your squancing (squat-dancing)! ?
Why Squats Are Important?
Looking for a
powerful and simple
move to add to your workout? Well hunny, you've found it. SQUATS. This move can boost your overall fitness and it requires no equipment and can be done anywhere. I love squats because not everyone realizes that it actually works your entire body. When you squat, you improve your upper and lower body strength and your arms ??. Squats have been around forever. It helps with your mobility because you work on those muscles you use everyday while you squat, in time, you'll feel your body move more efficiently. And don't we all want that? I sure do! There are 4 things to remember to stay in good posture when doing squats. (1) Keep your chest up and shoulders back, (2) Sit back, (3) Don't let your knees buckle, (4) Squat equal to or below parallel. You can read more about this
HERE
.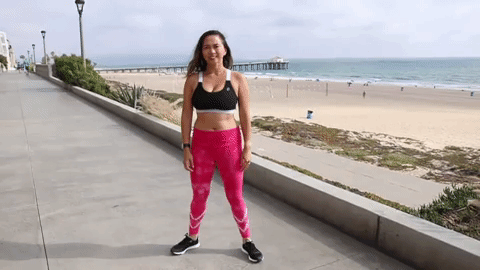 Regular squats are great, but it can also get old REAL FAST. It's great to start with regular squats to see how your body feels and figure out how low can you go or should go. There's no shame in a higher squat game, babe. Once you've figured that out, get ready to have some squat fun, check out 
4 dance inspired squats
below. These are all part of our 28 Day Total Body Love Challenge that starts on August 6!
1. Plié Squat
I've always loved
ballet
. True confession, I actually studied ballet when I was 7. Here's a little ballet inspired squat move that will help you tone and add grace.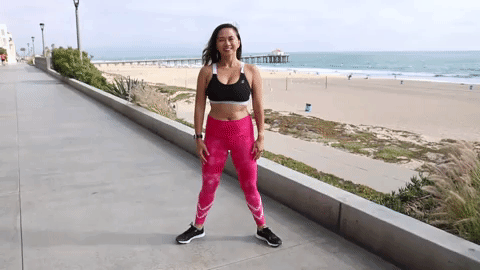 2. Squat with Up and Down Wine
Of course I have to incorporate the wine! Y'all know how much I love my wine. We did it on our
Dance Inspired Burpees
and it was so much fun that I realized you can also add it to a squat ??
Wine it up
babe and engage that core while you squat.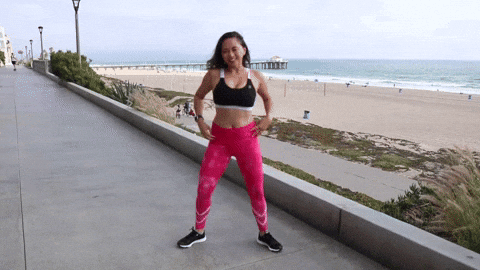 3. Curtsy Squat
*
Insert British Accent
* Ellow ma'am, fancy a squat? I don't know why I associate curtsying to the Brits but I feel a little fancy when I do these squats. Engage your thighs and
improve your balance
all at once. Do the same number of reps on both sides to keep it even.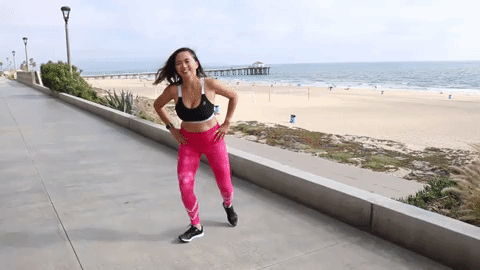 4. Half Moon Kick Squat
My
inner warrior
is coming out with this half moon kick squat! Thank you
Brazilian Warrior Workout
!! Remember, you don't have to kick high to activate those muscles. This variation is so much fun because it makes you feel badass ??. PLUS, it improves your balance and core.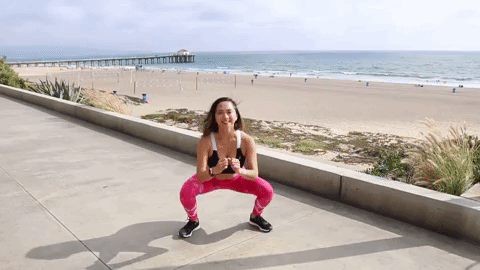 Increase Squat Reps As You Improve
I highly recommend adding squats to your workout as an additional strength move. In our 28 Day Total Body Love Challenge. We all do squats every Monday, Wednesday and Saturday. You can start by doing 7 squats per day and then try to work your way up to 28.  Make sure you
listen to your body
and don't over do it. You'll be surprised at how much progress you can make with 4 weeks!
Online Dance Workouts Anytime, Anywhere!
We're your go-to on-demand 
dance workout
 studio. Our classes are always available 24/7, 365 days! Get more workouts, meal plans and more!
Subscribe today and

 

immediately get access to:
✔️ ALL our Dance Workouts & Choreography  (200+)
✔️ Weekly Workout Schedule
✔️ Goal Specific Workout Programs
✔️ Paleo Recipes
✔️ Exclusive Member Challenges
and more… for only $18 a month.
Love em or hate em,