Nicole Steen
, you can now twerk like nobody's watching and get a great workout at the same time!
Basic Twerk Dance Steps
We'll be breaking down some basic
how to twerk
dance moves from one of our 5 minute clips of Tone N Twerk. Don't worry, it took me a while to get some of the moves, keep at it and you'll be a twerk star in no time.
Shuffle Twerk
This is similar to doing The Twist, but in the twerk version, you move your butt more. You basically shift your weight from one foot to the other, but keep your heels off the floor. The trick is to let your booty jiggle, don't tighten it so that you can shuffle better and the twerking will come naturally.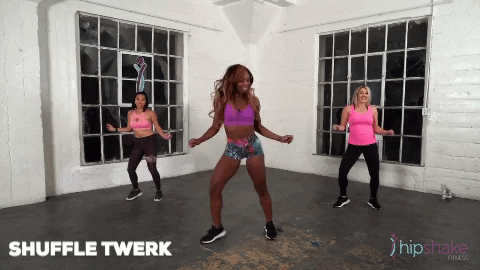 Up Down Twerk
This move is all about that arch, baby. You arch your back and then pop your booty in different levels. Your lower back muscles are actually what pushes your booty to pop and that's what you're also toning during this twerk move. Start slow and then work your way to a faster pace and maybe try to go as low as you can. I believe in you!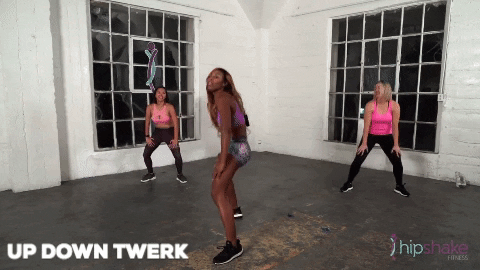 Booty Pop Twerk
Put your thumbs on your lower back muscles so you can really feel that booty POP. Essentially, you're pushing your thumbs back with your lower back muscles. When you arch to pop your booty, you're working out your back and your butt just naturally twerks. When you're more comfortable, place your hand on your thighs and go wild!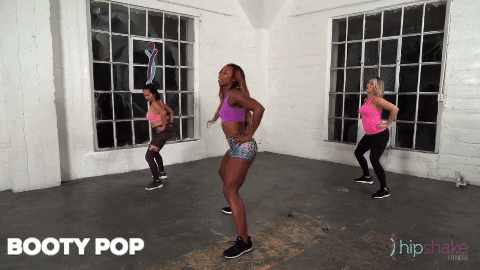 Front Booty Pop
What's the difference between the Booty Pop and the Front Booty Pop? The emphasis of the pop. So this move starts from an arch into a contraction working your legs and your abs. The push goes forward and the release goes back, making your booty jiggle up on its own. Like before, try it slow and work up the pace.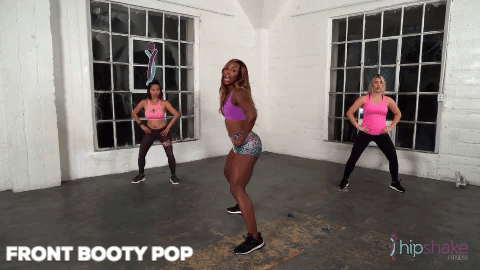 Twerk Dance Workout For Beginners
Experience twerking like never before with
Nicole
and
Tone N Twerk
! This is just one of the many workouts available in our platform!
Tone N Twerk Dance Workouts Anytime, Anywhere!
The full Tone N Twerk workout for beginners is available when you subscribe today. Join this unique dance community with hundreds of women who are dancing to get fit.
Download Our 7 Day Dance And Detox And Learn How To Twerk
For our
7 Day Dance And Detox Challenge
, y
ou get to try 4 premium dance workouts from our studio FREE! The complete challenge includes:
7 days of

 

dance workouts
twerk dance workouts with Nicole
build muscle

 

through resistance training
11 healthy recipes

 

that help give your metabolism a boost
Meal-by-meal plan
A supportive community of women and more…
…all yours for
FREE
!
Who knew that twerk dance would be such a great workout? It strengthens your legs and tones the booty. I know it can be intimidating to try a twerk workout in a public setting so we made it easy and accessible for anyone to try twerking at home. With the help of the twerk queen,