Cardi B
&
Nicole Steen
. You've heard the chart topping hit,
Bodak Yellow from Cardi B
. Now you can twerk dance to it too thanks to our resident buns of Steen, Nicole! Get the full Bodak Yellow choreography below and a break down of the chorus that you'll want to repeat over and over again. Let's
twerk it
, babe!
Bodak Yellow Twerk Dance Choreography
LEARN THE FIRST 5 TWERK DANCE MOVES:
1. Twerk Walk
How to do this first twerk dance move is you sit one side of your hip while the opposite arm reaches up and pulls down. Pretend like you're pulling a chord and its connected to your heel. So when your arm pulls down, the opposite heel goes up. Don't be afraid to get sassy with it too, release your inner Cardi!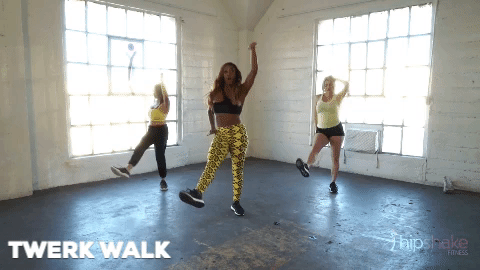 2. Arm Pumps
Push the haters away with this simple arm move and pump action. You can intensify the pumping action if you suck in your core everytime you pump forward. It's kind of like doing crunches while standing. If you repeat this move a few times, you will seriously feel your abs and legs getting sore.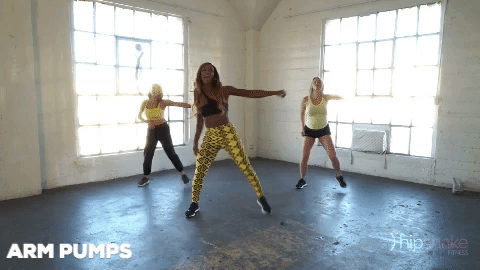 3. Side Twerk
This is one of my favorite twerk dance moves, the side twerk. What I love about it is that you've probably been doing some kind of version of it and didn't even know that you've been twerking. Basically, rest your hands on one thigh and do a semi-lunge and pop your booty the other way. Don't forget to look back at it and check yourself out!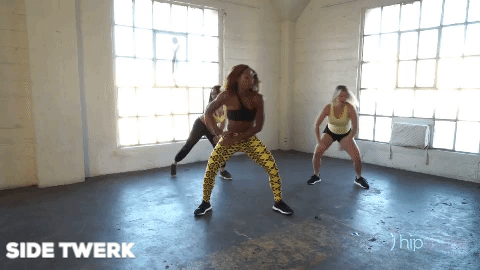 4. Walk and Pump
This is a little similar to the Arm Pumps from earlier, but now you're walking forward facing one side. Your arms are doing a shrugging motion, telling the haters that you don't care about them. You can even get low with it and make it a more intense twerk dance move.
5. Booty Jiggle
It wouldn't be a
Nicole Steen
choreography without a lot of butt jiggling. You toned it so now let loose and get it jigglin'. Bend forward and make that money clap and let that booty shake. There's no right or wrong way to do it as long as you're having fun with it!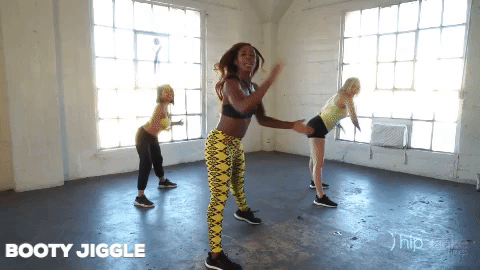 If you don't get the steps right away, don't worry boss babe! You can repeat the video as many times as you want. And the most important thing is we're all
dancing
and
having fun
together. I'm certain you are gonna rock this Bodak Yellow twerk dance choreography in no time!
Online Dance Workouts Anytime, Anywhere
We're your go-to on-demand
dance workout
studio. Our classes are always available 24/7, 365 days! Dance through 2018 and beyond with us.
Subscribe today and

 

immediately get access to:
✔️ ALL our Dance Workouts & Choreography  (100+)
✔️ Weekly Workout Schedule
✔️ NEW Workouts Weekly
✔️ Goal Specific Workout Programs
✔️ Low Carb Recipes
and more… for only $18 a month.
SPECIAL 60 DAY FREE TRIAL WITH CODE 'nydance' from 1/2-1/4/18!
You are in for a treat babe! Today two kweens meet in one femmetastic twerk dance video–