Diane
suggested to do a throwback song for her new barre workout.
---
I Love The 80's
I grew up right in the heart of the 80's, big hair, neon clothes, structured shoulders and of course, Girl Talk the game! What was the hot goss back then? Boys, obviously. I found out that Diane had a big crush on Corey Hart and it made me think of mine…
Joey McIntyre
.
I have to be honest, I was very into The Rolling Stone's magazines instead of  the Tiger Beats, Bops and Seventeen when I was younger, but that didn't stop me from drooling over teen heartthrobs. New Kids On The Block and Joey were my
guilty pleasure
. I was rockin' out to U2 and The Cure on the outside, but when I get home I was dancing to
Step By Step
! Their songs were catchy, they had fast and fancy dance moves and when Joey croons to
Please Don't Go Girl
… I'm dead. ? The 80's was a special and colorful time so we had to recreate it with our outfits. Leg warmers, neon pants, side ponies, we were all for it and we brought down the house! Diane did such an amazing job of mixing classic moves with barre and still making it her own.
Anya
and I couldn't stop smiling during the choreography and I know you will be ? too.
Blissful Barre
workout is one of my faves to do especially for toning.
Diane
really gets into the nitty gritty and works out those muscles that you didn't even know existed! I love the small movements with big results from ballet, yoga and pilates and you can find them all in our barre class. Get your 80's dance on and show it off on
instagram
with
#hipshaker
so we can give you some high fives!
Sunglasses Barre Choreography
Wear your sunglasses and dance like nobody's watching to our
80's barre dance workout
! Make your 80's dream come true and relive your girl crushes, one dance move at a time!
Grapevine Jump
I love me a good grapevine sequence and in this, Diane added a little jump at the end for an extra umph! T
ake a side step with your right foot and then cross your left foot behind it then take another side step with your right foot. Now you've done a grapevine ??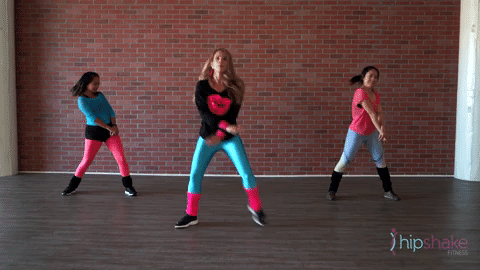 Rock Em Sock Em
Yes ladies, now we all can play Rock Em Sock Em and get gorgeous arms in the end too. I love this combo because it's totally 80's dance! The robot was all the rage, but let's make it stronger and fierce today.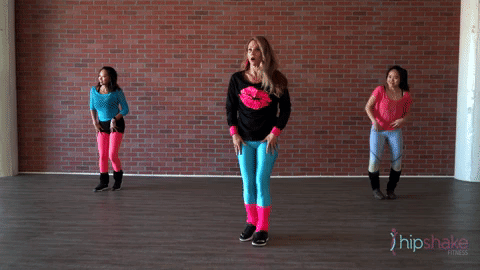 Fame
Remember my name, FAME! This was a staple dance move in the 80's. You walk up a few steps and jump up with your standing leg while your other leg touches the side of your knee. Nail this move in your next 80's dance audition and you'll get the part babe!
Crimped Hair Flip
Who didn't crimp their hair back then? I know I did and even wanted to get a perm ?Whatever the status of your hair is, you'll be flippin' it like you were born this way. Get in a wide stance, cross your arms in front of you and flip that hair Babie babes!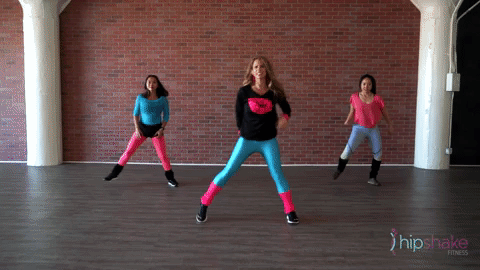 Barre Workouts Anytime, Anywhere
We're your go-to on-demand dance workouts and the exclusive home of Blissful Barre. Get your barre on workouts anytime, anywhere. PLUS, our workouts are always available
24/7, 365 days
! Stay fit on your own schedule with us and try our dance workouts today.
Download Our 6 Day Hip Hop Reboot And Get Started On Your Dance Journey Today
For our
6 Day Hip Hop Reboot
, y
ou get to try 4 premium dance workouts from our studio FREE! The complete challenge includes:
6 days of

 

hip hop cardio dance workouts
Barre workouts from Diane
build muscle

 

through resistance training
9 healthy recipes

 

that help give your metabolism a boost
Meal-by-meal plan
A supportive community of women and more…
…all yours for
FREE
!
I grew up in the 80's dancing with The Smurfs, New Kids On The Block, Rainbow Brite and Alf! So I was super stoked when