Hip hop dance
is one of my personal faves when it comes to dance types. I grew up with 90's hip hop (which is the best, btw) so it definitely has a warm place in my heart. Whether you're old school, new school, flirty or a Cabbage Patch fanatic, we've got moves to start you on your hip hop dance journey!
---
Hip Hop Dance For All
Dancing hip hop is for everybody. It does not discriminate against age, body type or race, it welcomes each and everyone to try out it's awesomeness. I fell in love with hip hop dance when I heard
Snoop Dogg's Lodi Dodi
. It was so dope and that hook was so catchy. I was floored because the beat was so smooth, the flow was incredible and Nanci Fletcher's voice was mesmerizing. Obviously, I had that song stuck in my head for days and I still know all the words and can dance to it in my sleep. Hip hop music and dance isn't just one kind of beat or move either, there are so many layers to it and that's what I love most. You can be gangster, you can be fierce and flirty and you can add your own flavor to all those hip hop dance moves.
La Di Da Di, we likes to party. We don't cause trouble, we don't bother nobody
Hip hop dance is all about your
attitude
so whatever move you're working with, own it! I feel lucky that I can dance to different hip hop workouts anytime I want because we've got
Ashley's
Old School Hip Hop
and
Nicole's
Flirty Hip Hop
 on our platform. These ladies bring the heat and the 'tude every time I workout with them. Whether you want to learn a more classic or a more femme fatale type of hip hop, we've got the moves right here! I'll share my fave classic and fave flirty hip hop move with you. I really love the
Running Man
, because it's a timeless move and it works out your legs and arms. As for flirty, my fave would have to be the
Knock On The Door
because it works with all kinds of beat and it's super cute. Babe, you're in for a treat because you'll learn from Los Angeles' bests:
Ashley
&
Nicole
.What's your favorite hip hop move? Let me know in the comments below or show it off on
Instagram
with
#hipshaker
so I can give you a fist bump 👊🏼
1. Tootsee Roll
Let me see that Tootsee Roll! This is a great move to start with because you can
loosen up
those hips, legs and arms with one single move. You're essentially making a figure eight motion with your limbs. I'd start with one arm and then both arms together. Then bring your knees in together and bring them out. Repeat. You've got that Tootsee Roll down babe!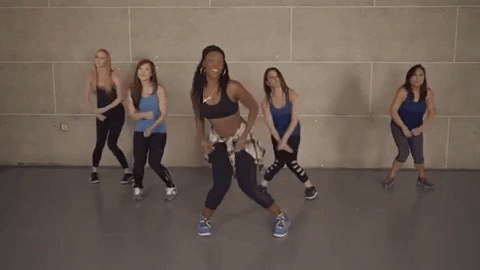 2. Knock On The Door
Hello, neighbor. Don't mind me, just dancing. Make a knocking motion with one arm. Then turn your fist towards you and sway the opposite hip towards that door. Oh heeeey,
femme hip hop dance
in the house! This move is so fun and you can do variations like one knock or even three. Show me what you've got✊🏻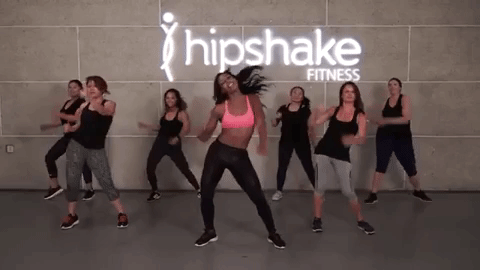 3. Two Step
A step touch never hurt anyone, it just made them cooler. The main move here is the
step touch
— step right foot to the right and touch your right heel with your left heel. This is the foundation of any hip hop dance because you can slow it down, make it faster and do anything with your arms that makes you feel good!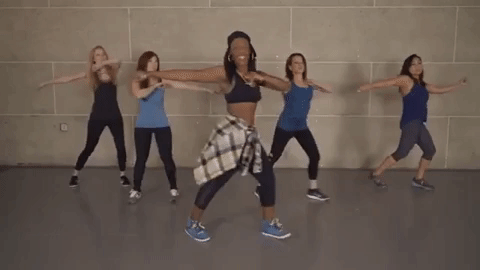 4. Shoulder Rolls
Roll your shoulders and groove to the music babe. Add a little knee lift each time you roll your shoulders forward and really channel your
inner Janet Jackson
. This is another move that you can add variety too with either rolling your shoulder just once or twice and adding levels to how hard your roll your shoulders to how low you can go while doing shoulder rolls.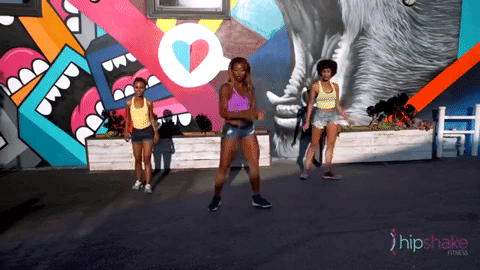 5. The Cabbage Patch
Yes you read that right, we're bringing the Cabbage Patch back and making it a little sexier. Did you know you can actually activate your core while doing this move? Squeeze that belly tight and circle those hips with those arms babe and feel the burn 😉 You can't go wrong with another
classes hip hop gem
.
Beginner Hip Hop Dance
If you're a beginner and new to hip hop, we recommend trying out these 2 hip hop videos
 .
Old School Hip Hop with Ashley
Flirty Hip Hop with Nicole
Download Our 7 Day Kickstart Challenge To Get Started On Your Dance Journey NOW
For our
7 Day Kickstart Challenge
, y
ou get to try dance workouts from our studio FREE for 7 days! The complete challenge includes:
7 Days of Dance & Toning Workouts from our studio

Hip hop dance workouts from both Ashley & Nicole

Recipes that help give your metabolism a boost

Meal-by-meal guide
…all yours for
FREE
!
Hip Hop Dance Workouts For Beginners Anytime, Anywhere
We're your go-to on-demand dance classes. We incorporate fierce cardio dance and toning in our dance studio. PLUS, our workouts are always available
24/7, 365 days
! Stay fit on your own schedule with us and try our dance workouts today.