empowering
. You've seen that burlesque dance class on a schedule, but you don't know what to expect. So come take our burlesque class at your home and sexy dance like nobody's watching!
---
Sexy Chair Dance
I know I've felt intimidated when thinking about taking a
burlesque class
and even more when I think about sexy chair dances. What should I expect? How will I feel when I'm on top of the chair? Will I fall? Will it be easy? Will I love it??
I can tell you right now, I definitely loved it! Learning a
burlesque
chair dance and then some made me feel confident, sexy and so fierce! There's just something about
dancing your heart
out in a new and vulnerable way that makes you feel good. It takes a few tries to get used to the chair, but babe, like
Erica
says, the chair isn't going anywhere. I felt like an
acrobatic goddess
when I finally got the chair trick. Not only did I learn a sexy chair dance, I also learned how to move around my throne. Erica does a really great job of making you feel comfortable. She's like your best gal pal that's helping you release your inner sultry side! Are you ready to get sexy, vulnerable and strong? Welcome to the world of sexy chair dance and
Burlesque Burn
!
Burlesque Burn
takes the strength from pilates and the sexy choreography from burlesque and puts it beautifully together! Erica will guide you through strength and feminine prowess so you can channel your own burlesque goddess. Check out more of our
Burlesque Burn
photos, new videos and more on
instagram
with
#hipshaker
!
Step By Step Sexy Chair Dance Tutorial
Get started on your sexy chair dance journey with our step by step tutorial. Grab a chair with a back and you're on your way!
Step 1: All In The Hips
Clutch the edge of the chair without the back then rest your hips on the back of your chair. Make sure it's your hip bone and not your stomach. It'll make a difference babe.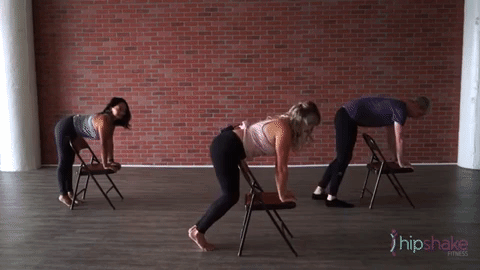 Step 2: Elbow Magic
Your elbow should lay flat of the seat and this will give you a lot of support and help you balance.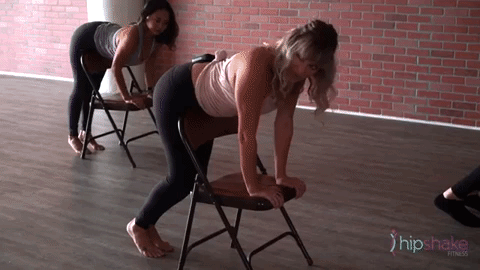 ---
Unleash your feminine expression by learning to dance! We've got online dance classes that empower women on our virtual dance studio. Burlesque Burn combines the control and stamina of Pilates with the sexy theatrics of Burlesque dance. You're gonna feel empowered and ready to take on the world!
Get a FREE Trial Today! 
JOIN HERE
.
---
Step 3: Balancing Act
Drop your chest to the chair and slowly lift your feet off the floor. Do it as slowly as you need because this is your time!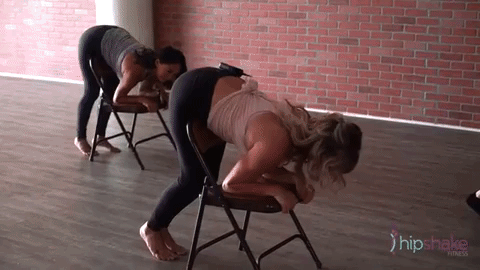 Step 4: Make Your Shape
Once your legs are up in the air, take a second to breathe and smile because you did that! Now let's have fun. What kind of shapes can you create with your legs? Try it with one, try it with both.
Bonus: Freestyle
Yes QUEEN! You did it. You learned your very first chair trick. As a fun bonus, hit that play button below so you can also learn how to freestyle on and around the chair babe.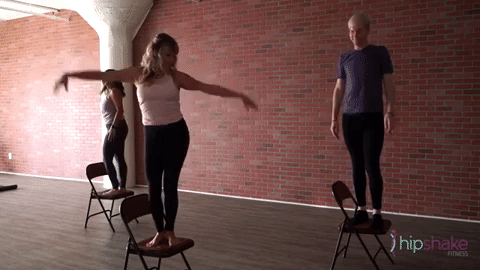 Learn A Sexy Chair Dance
Get the
5 minute tutorial
now and get the full workout when you sign up to become a dance studio member ??
More Burlesque Dance Workouts Anytime, Anywhere
Get your sexy on with
Erica
and more
Burlesque Burn
workouts. Own your throne whenever you want while working out your amazing bod!
Download Our 6 Day Hip Hop Reboot And Join Our Inclusive Community
For our
6 Day Hip Hop Reboot
, y
ou get to try 4 premium dance workouts from our studio FREE! The complete challenge includes:
6 days of

 

hip hop cardio dance workouts
build muscle

 

through resistance training
9 healthy recipes

 

that help give your metabolism a boost
Meal-by-meal plan
A supportive community of women and more…
…all yours for
FREE
!
Learning a sexy chair dance can be very