Arm workouts
are something that I dread. I always do it last because it's so difficult. Luckily,
Diane
, our
Blissful Barre
instructor has created an easy
15 minute barre arm
workout that you can do anywhere! It's the perfect length to add to your cardio workout ??
Why Barre Arms?
A lot of people think Barre only works out the legs, but there are a lot of arm movements that you can also use to strengthen your upper half. A
strong upper body
has a lot of benefits like making daily activities so much easier.
Remember when you had to carry those grocery bags (
in one-carry
) to your apartment? Yeah, that'll be a breeze after you workout your arms. You'll also increase your metabolism because you'll have more lean muscles to help burn calories! We all dream of having smokin' hot guns, right? This is now my go to quick workout for my biceps, triceps and shoulders! Let me know what your fave barre arm moves are in the comments below.
1. Figure Eleven's
With your light weights, create a figure 11 with your arms and press your elbows down. This works out the shoulders and you will feel it almost instantly. It's so important to workout your shoulders because it helps
improve your posture
and helps with aches and pains.

2. Lunge + Pulse
This one is really good not just for your triceps because you're also working out your hips and legs. In a lunge, pulse up your arms while holding your light weights. You'll notice that you'll feel a
total body burn
while doing this move and that's when you know you're doing it right.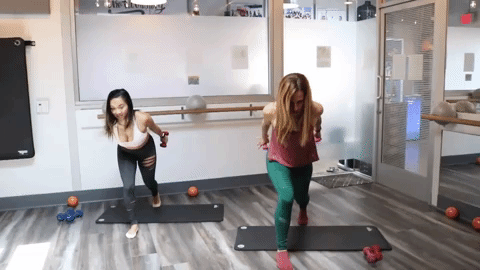 3. Curls
Now on to the
heavier weights
(if you're just starting out, you can definitely stay on your light weights– ain't no shame!). This is your basic bicep curls, but in barre you stand in first position with your knees bent and hips tucked. This OG move totally burns too especially the more reps you do.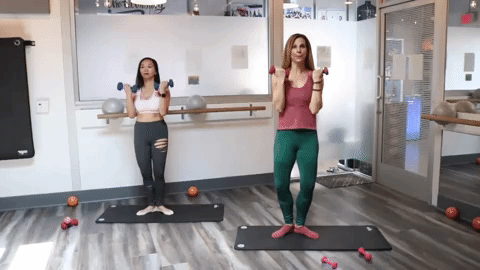 4. Push Ups
Who likes push ups? I sure do! And it's so good for you too. I think these are my fave because Diane's are
knee push ups!
I have a hard time using my toes and I always feel like I'm slipping so these are really awesome. You build muscles on your upper body, but you also activate your core muscles. Double win!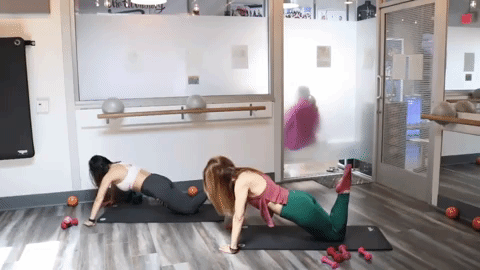 5. Reverse Push Ups
These are great for working your triceps! If you get tired of regular push ups, turn it over and do it in
reverse
.
Diane
has different variations of this move and this one is just the warm up. Work your arms and your core again without putting a strain on your knees this time.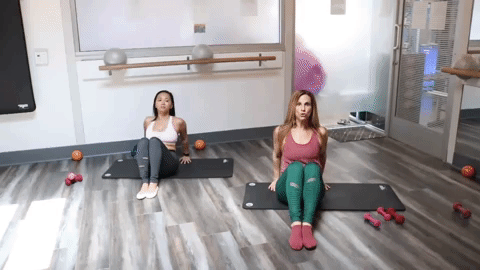 Barre Arms In 15 Minutes
Workout your upper body with these moves and so much more from Diane and Blissful Barre. This whole
15 minute arm workout
is available for you today so add it to your routine or use it to start a new routine.
Barre Workouts Anytime, Anywhere!
Our at home barre workout always starts with a blissful intention and then works on your total body with moves from ballet barre, yoga and pilates. We're your go-to on-demand 
dance workout
 studio. Our classes are always available 24/7, 365 days!
Download Our 7 Day Dance And Detox And Get More Barre Workouts
For our
7 Day Dance And Detox Challenge
, y
ou get to try 4 premium dance workouts from our studio FREE! The complete challenge includes:
7 days of

 

dance workouts
barre workouts with Diane
build muscle

 

through resistance training
11 healthy recipes

 

that help give your metabolism a boost
Meal-by-meal plan
A supportive community of women and more…
…all yours for
FREE
!