simplest movement
results in the best gains of your fitness journey. Planks are exactly that, a simple move that can improve your strength, balance and conditioning. Of course, I have to try to spice these planks up because holding yourself up for a minute can get very mundane. So let's add some dance to planks and make them fun and effective!
---
What are benefits of planking?
Planking is a really good
total body workout
that doesn't need any equipment. Your body and gravity are the only equipment you'll need to get the benefits of planking. I definitely have a love/hate relationship with planks because I know they're good for me, but they're so hard!! But I think about how ridiculously beneficial they are in my head while I plank and next thing I know, it's already been a minute ??
What exactly do you gain from doing planks? Well babe, you're in for a treat because this is a total body benefit train that keeps on rolling. Planks are really good at engaging your
deep inner core muscles
that we normally can't reach. You're stabilizing your core while working on your
flexibility
too. How does it make you flexible? While in a plank, you're stretching your shoulders, collarbone and your hamstrings. Isn't that fantastic?? I think so. And for my babes who suffer from that pesky back pain either from working in front of a computer all day or from that morning commute, planking strengthens your back muscles too which means it
reduces back pain
. ?? Of course, it also improves your balance and your posture and I know I could use more of that. These are just some of the wonderful benefits of planks, but to get these benefits you must have good form!
Good plank form:
Your feet (or knees) and arms (or elbows) should always be shoulder width apart. Keep your chin 6 inches away from your chest, this is important because you don't want your spine and neck to strain. Your body should
form a straight line
from the crown of your head to your heels.
What not to do:
High Hips
You want to keep your hips and booty low so that you engage your core. Fix this form by tucking your booty a little and squeezing it to keep it low.
Head down
You don't want to put your head down or look up when you're planking. This will strain your neck and we don't want that. Fix this by keeping your head in line with your back. Remember to keep your body in a straight line.
Low Hips
When you're fatigued in the middle of the plank, lowering your hips or legs is not the answer. It's better to do a modified plank so that you still get to strengthen your muscles and not strain any part of your body.
Check out our dance-inspired planks below and let me know if there are any plank forms you have questions about. And show off your plank game on
instagram
with
#hipshaker
so we can give you some high fives!
Regular Plank
Modified Plank
If you need a plank that's less strenuous to your arms, try planking with your elbows down.
Knee Plank
Another great modified version of the plank is with your knees down. This will still activate your core muscles without straining your feet.
Plank Twist
A fun twist to a regular plank! While planking try to reach your knee to the opposite elbow. This is great to do on beat with your favorite song.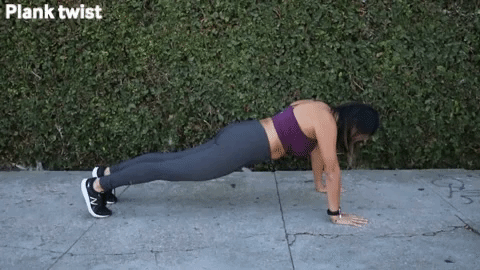 Plank with Wine
Want a little more challenge than your regular plank? Wine away babes! Remember to keep that body in a straight line so wine that whole body and feel the burn.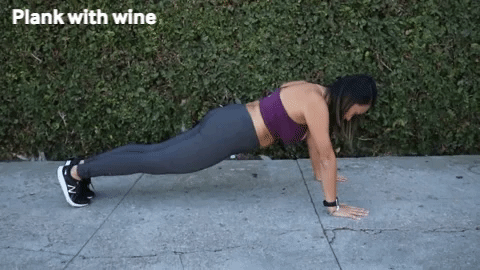 Plank Leg Lifts
A little bit of yoga, a little bit of planks. When doing leg lifts, keep one leg up and hold it for half of the time you're planking. For example: if planking a total of 1 minute, do 30 seconds with your left leg up and 30 seconds with your right leg up.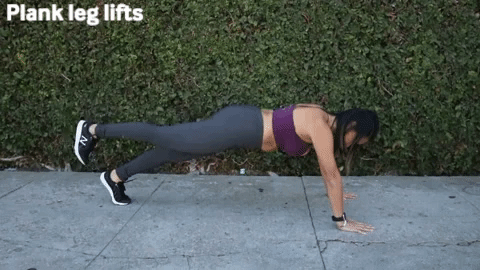 Increase Plank Time As You Improve
I highly recommend adding planks to your cardio workout to strengthen your body. In our
28 Day Grateful Dancer Challenge
we change up the type and time of our planks per week. We're ALL doing planks together 3 times a week. We start by doing 30 seconds or regular or modified planks for the first week and end with 1 minute of plank leg lifts on week 4. Make sure you
 

listen to your body
and don't over do it. Your progress will be remarkable in just 4 weeks.
Part Of The 28 Day Grateful Dancer Challenge
Planks are a big part of our
28 Day Grateful Dancer Challenge
and you can join in on the fun! It starts
Oct 22, 2018
and for 4 weeks, you'll nourish your body through dance workouts, planks, healthy low carb meals and gratefulness exercises. We'll be focusing on toning different parts of the body each week and we'll be launching new
Burlesque Burn
workouts too. Plus, don't miss out on 15 low carb recipes you can keep forever!
Online Dance Workouts Anytime, Anywhere!
Join our dance studio now to be part of the challenge and start your dance fitness journey. We're your go-to on-demand 
dance workout
 studio. Our classes are always available 24/7, 365 days! Get more workouts, meal plans and more! 
Subscribe today and

 

immediately get access to:
✔️ ALL our Dance Workouts & Choreography  (200+)
✔️ Weekly Workout Schedule
✔️ NEW Workout Videos Weekly
✔️ Goal Specific Workout Programs
✔️ Low Carb Recipes
and more… for only $18 a month.
Sometimes the